Skip to content
Join us for the 8th Annual
Wild & Wacky, Witty and Wonderful Workshop Work Week
A time for fun, education and service to Highlander for the long haul!
May 31- June 4, 2016
Stay tuned for more info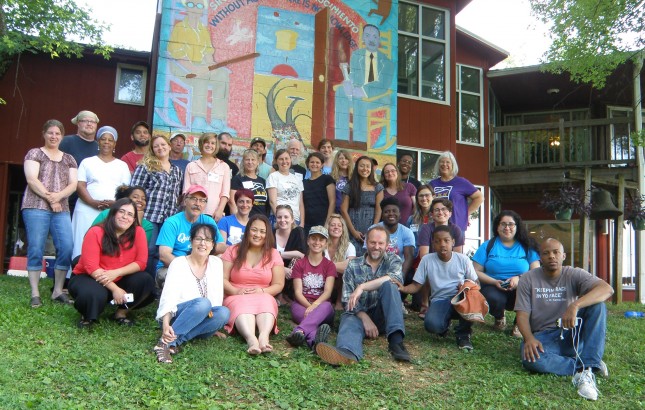 W.7 Photo 2015
Come to the mountains of east Tennessee and spend one of the best starts to your summer ever with Highlander staff and people from around the country at W-7.8, our 8th Wild & Wacky, Witty & Wonderful Workshop Work Week, May 31- June 4 2016.
SOCIAL CHANGE WORK: Spend half of your day in those renowned rocking chairs engaging on the idea of Highlander – workshops on popular education, organizing, movement building, & the history of social change and what all that can mean in your organizing and community work today.
WORK TEAMS: Spend another part of your day in service to the place of Highlander. As part of
a team – and in a praxis that continues learning from each other through dialogue and educational
exchange – prune in the orchard, cultivate in the garden, clear a hiking trail, plant trees 'on the hill',
file in our library, or build a bench, for example. There are jobs for all levels of skill and ability.
EVENINGS: As the sun prepares to set, we continue the fun. In the evenings, we'll sing, share stories
around a fire, and square dance with a caller and live band (lessons provided).
DETAILS/COST: Stay tuned to the website for more information