REGISTER TODAY! Highlander's 91st Homecoming September 16, 2023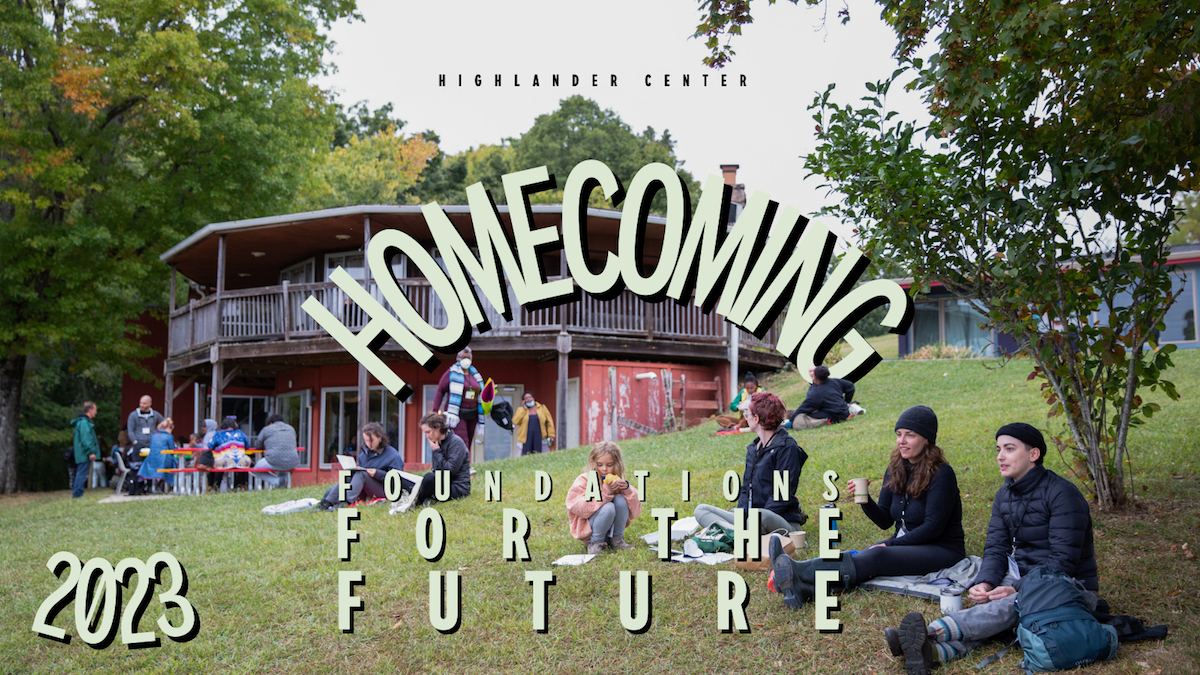 Registration is now open for Highlander's 91st Homecoming celebration, Sept. 16, 2023!
Please purchase your ticket here and then complete the registration form here
Our theme this year is "Foundations for the Future" – we are laying the groundwork in our bodies, minds, and movement work for the new world that is coming. This year's gathering is a one-day-only event with limited registration, so stay tuned for the registration link coming soon!
Highlander staff members will join movement partners to facilitate sessions that will deepen participants' skills in Highlander methodologies and sharpen analysis and strategy in the fights against fascism; practice embodiment through yoga, dance, and self-defense; and create space to gather with comrades around meals, around the bonfire, and around the land.
We hope you'll register and plan to join us!
Important information for folks traveling from out of town:
Transportation: For attendees who are not on Highlander's list as workers, staff , board or presenters:
For airport pick-up from airport to hotel, Highlander is providing shuttle support. To arrange shuttle transportation, visit sdtranspo-highlander.com to schedule your transportation.
If you are arriving at the airport, please visit our table by the Baggage Claim area to sign in and catch your ride.
Group Rates and Hotels
Highlander is providing Free shuttle from the following hotels to the event on Sept. 16:
Please ask for Group Rates under Highlander Research and Education Center
Best Western – rate 199.00 (Friday); $99.00 (Saturday & Sunday) – (King/Queen)
3385 Winfield Dunn Parkway
Kodak, TN
865-898-888
Quality Inn – rate 9/15-9/16/23 – $170/ per night ( King/Queen)
155 West Dumplin Valley Road
Kodak, TN 37764
865-933-1719
Check out the Homecoming schedule below and tune in here for updates: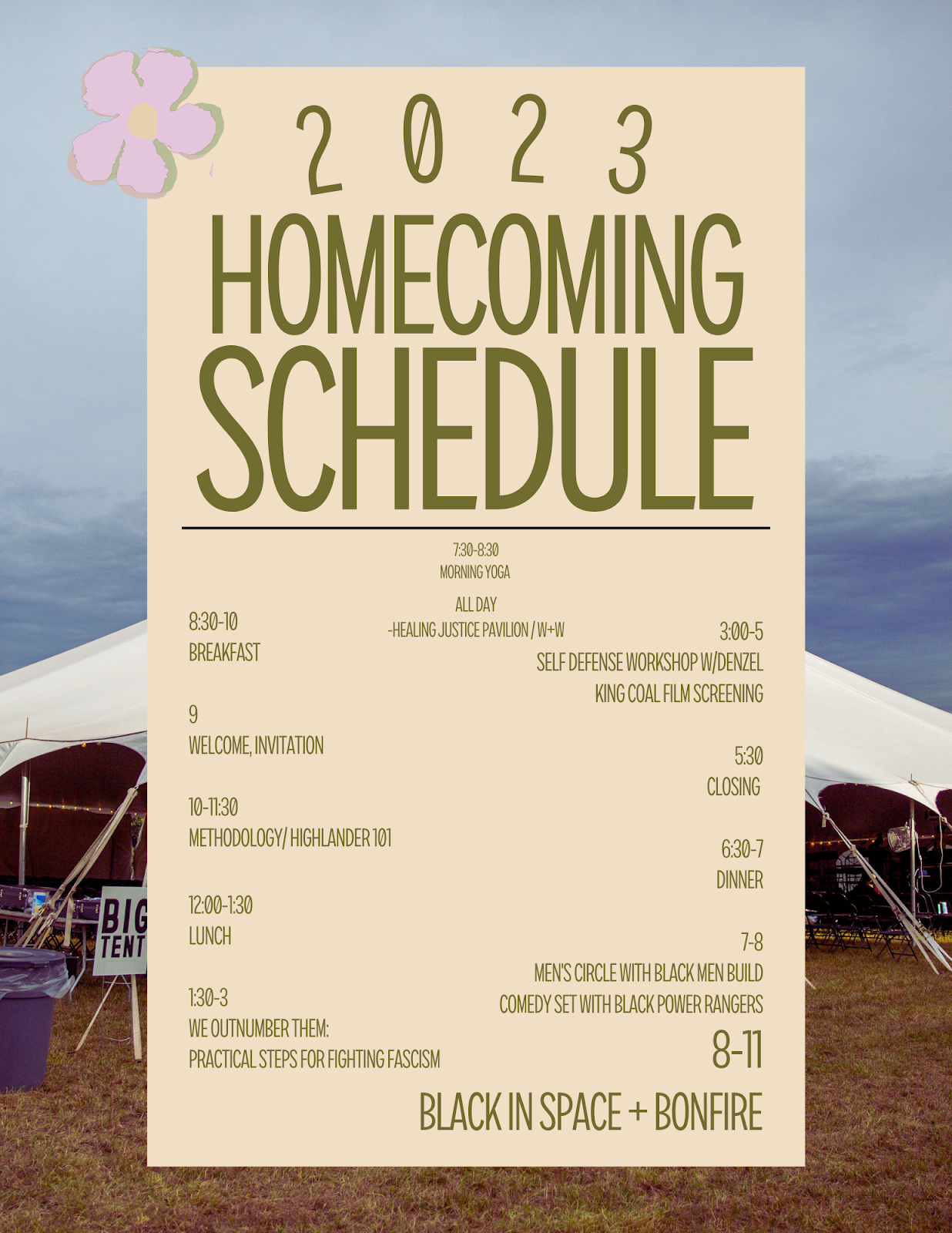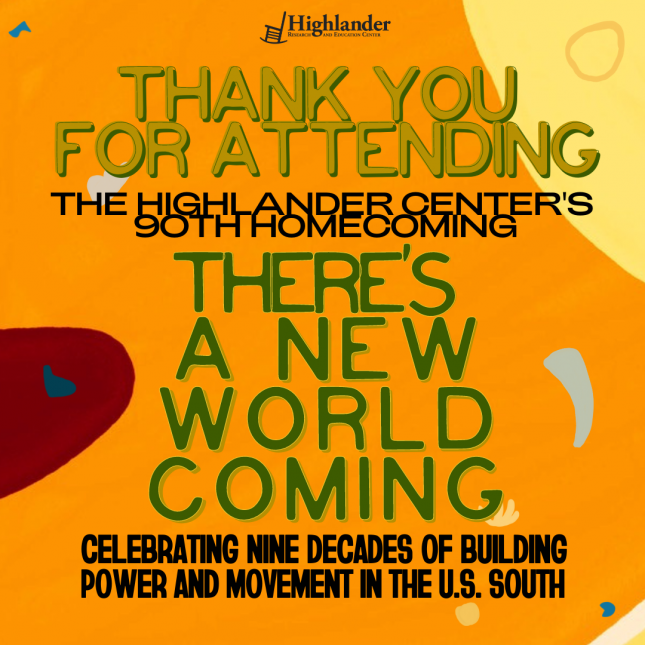 Thank You for Joining Us at Highlander's 90th Homecoming!
Thank you for envisioning a new world with us at Highlander's 90th Homecoming! We are so appreciative of everyone who joined us in person and online, across the globe and across generations, who made this amazing weekend possible. Thank you for being in community with us. 
We're still synthesizing and processing all the visionary wisdom that was shared over our three days together, but we want to invite you to contribute to our collective learning and action steps coming out of the weekend. Did you build new relationships, connect with badass organizers, have an aha moment, or gain new insights that will shift conditions for your community? We want to hear about it! Email us with your notes, stories, lessons, photos, videos, artwork and more to inform our collective future story!
In the meantime, check out some of the highlights from our time together below.
Homecoming is supported in part by grant funding from the Tennessee Arts Commission and the National Endowment for the Arts.
Highlander's 90th Homecoming celebration "There's a New World Coming" encouraged us to engage our radical imagination to envision the future world we are building together.
Highlander program participants, staff, and movement family share their future stories in this powerful collection of possibilities.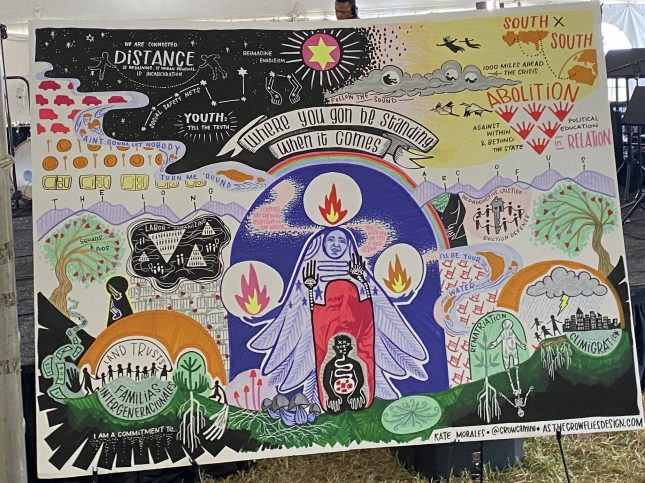 Kate Morales created this beautiful visual of the weekend's conversations through community collective storytelling. Fannie Lou Hamer is centered under a North Star, commemorating Regina Taylor's play "A Seat at the Table" that was performed in a reading Friday night, part of an homage to the many Black women who made Highlander what it is and whose stories were lifted up throughout the weekend. 
Kate shared with us that "the two trees anchor each side, with branches reaching out to acknowledge the ones we immediately touch and the ones who are farther away, recognizing we don't have to be in direct community with everyone to be in community with everyone."
Like the trees, we have branches in our lungs, torsos, arms, and hands, and we don't belong in cages and boxes and jails." 
The kids on the hill saw the process and asked Kate to add a rainbow – an hour later, a real rainbow appeared in the sky, centering our manifestation skills. "Write it down, make it beautiful, speak it out, and look at it until it becomes true." – Kate
Learn More About Our Theme: "There's A New World Coming"
 Our theme "There's A New World Coming" is inspired by the
amazing song
written and performed by Dr. Bernice Johnson Reagon, cultural organizer, singer and song leader, civil rights activist, scholar, and member of the SNCC Freedom Singers.
Highlander is honored to be in relationship with Dr. Reagon since her days organizing with SNCC and through her continued leadership in administration of the We Shall Overcome Fund today. Centering our 90th Homecoming in the message and vision of "There's A New World Coming" honors Dr. Reagon and her many contributions to our own work and to movement, while guiding us toward a collective future story of the world we are building together and will be moving in from Highlander's 90th to our  100th Homecoming.
Watch this video to hear the exciting conversation digging deeper into our theme and the song that inspired it. Highlander Co-Executive Director Ash-Lee Woodard Henderson joins the phenomenal Toshi Reagon, a cultural organizer, singer, composer, musician, and producer who is building her own legacy that carries forward and expands on her mother's work and music, most recently in her opera adaptation of Octavia E. Butler's Parable of the Sower. 
Homecoming is our favorite weekend of the year at Highlander – every September we bring together hundreds of movement family from around the globe who join for fellowship, learning and strategizing, singing and dancing, and deepening relationships over a meal, a beautiful view of the mountains, or in the quiet moments the Hill provides.
We all leave Homecoming reenergized and recommitted to our work back home, knowing that we are in solidarity and community with a global network of freedom fighters working on the frontlines for transformative social change.
Highlander's 89th Homecoming: "Reflecting and Rising"
Sept. 24-26, 2021
2019: Highlander's 87th Homecoming "Don't Stop, Get It, Get It"
2018: Highlander's 86th Homecoming "#TheFutureIs"
2017: Highlander's 85th Homecoming "The South's Got Something to Say"
2016: Highlander's 84th Homecoming "Collective Courage"
2015: Highlander's 83rd Homecoming "No Longer Erased"