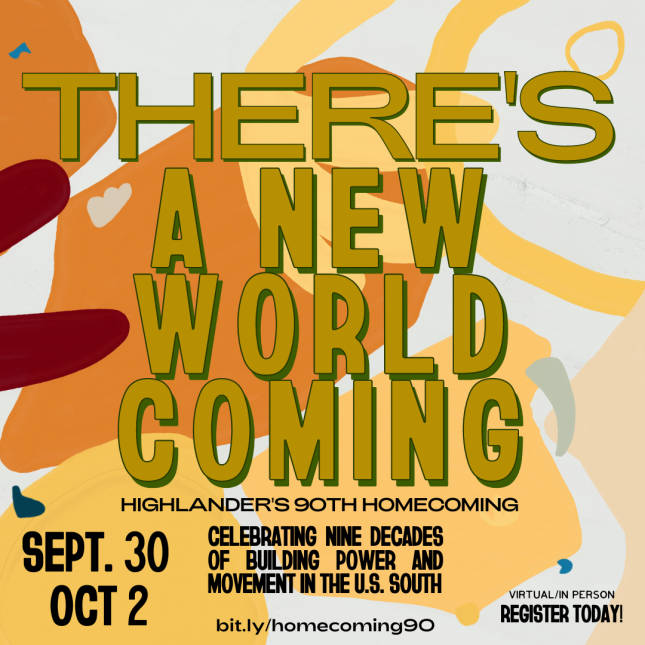 Registration for Highlander's 90th Homecoming has closed for in-person attendees, but it's not too late to join us online! Register today to join us virtually for our Homecoming celebration Sept. 29 – Oct. 2, 2022!
The full roster of virtual programming is available here. We hope you will join us online if you weren't able to attend in-person – please register today and share with your networks!
Homecoming is supported in part by grant funding from the Tennessee Arts Commission and the National Endowment for the Arts.
Check out our FAQs below to stay up to date on everything you need to know
to have a wonderful Homecoming experience with Highlander.
Learn More About Our Theme: "There's A New World Coming"
 Our theme "There's A New World Coming" is inspired by the
amazing song
written and performed by Dr. Bernice Johnson Reagon, cultural organizer, singer and song leader, civil rights activist, scholar, and member of the SNCC Freedom Singers.
Highlander is honored to be in relationship with Dr. Reagon since her days organizing with SNCC and through her continued leadership in administration of the We Shall Overcome Fund today. Centering our 90th Homecoming in the message and vision of "There's A New World Coming" honors Dr. Reagon and her many contributions to our own work and to movement, while guiding us toward a collective future story of the world we are building together and will be moving in from Highlander's 90th to our  100th Homecoming.
Watch this video to hear the exciting conversation digging deeper into our theme and the song that inspired it. Highlander Co-Executive Director Ash-Lee Woodard Henderson joins the phenomenal Toshi Reagon, a cultural organizer, singer, composer, musician, and producer who is building her own legacy that carries forward and expands on her mother's work and music, most recently in her opera adaptation of Octavia E. Butler's Parable of the Sower. 
HOMECOMING FAQs / Preguntas Frecuentes del Anniversario
For our 90th Anniversary we are providing a sliding scale in $90s. We recommend the following:
Full Weekend (Friday-Sunday) – $190

Half days (Friday or Sunday) – $45 

Saturday – $90 
Virtual Attendees:
Full Weekend – $90

Partial Attendance / Only attending specific programming – $45

Youth – Sliding Scale $5-$20
Registration will give you an option to pay on-site/at a later date if you aren't sure if you are attending virtual or in-person. 
As you are able, we encourage you to register at a higher ticket prices from $290-$990 to support Highlander's on-going work.
WHERE TO STAY
Highlander will not be providing on-site housing options other than camping. The following hotels have a Highlander Homecoming rate and we'll provide regular shuttle service from these hotels to Highlander.
Fairfield Inn & Suites Sevierville Kodak

: 3620 Outdoor Sportsman Place, Kodak, TN 37762 (865) 933-3033.

Book online.

Comfort Suites Kodak:

161 W Dumplin Valley Rd, Kodak, TN 37764 (865) 933-3131. Call & mention Highlander Homecoming.

Hampton Inn & Suites Sevierville @ Stadium Drive:

105 Stadium Drive, Kodak, TN 37764 (865) 465-0590. Call and mention Highlander Homecoming.
Camping at Highlander: Camping is available at Highlander for $20 per person per night. This fee is payable when you register. There will be access to two heated showers, pop-up showers, handwashing stations, and porta potties by the camping area. Individuals are responsible for providing their own camping gear. Power will be available for campers, details wil be updated.
YOUNG PEOPLE
Childcare/Youth: As we strive to keep the next generation safe, we will continue to closely monitor Covid rates. At this time there will not be childcare for children ages 0-5. 
Children's Justice Camp programming will be available for children ages 6-12. 
Seeds of Fire programming will provide youth activities and workshops for ages 13-25.

GETTING TO/FROM HIGHLANDER
Flying: The nearest airport is McGhee Tyson Airport. Visit this link to reserve a shuttle from the airport to Highlander or one of the Homecoming Hotels. This airport shuttle has a nominal fee (that's cheaper than a rideshare) that individuals will pay directly to our shuttle vendor. 
Hotel Shuttles: Highlander is providing regular van shuttle service from the hotels listed above to Highlander.  The shuttle schedule to the Hill is:
Friday September 30 runs from 3pm til 11pm.
Saturday October 1 runs from 7:30am til 11pm.
Sunday October 2 runs from 7:30am til 3pm. 
Driving: There is ample parking at Highlander in a large field. 
COVID-19
We are closely monitoring Covid-19 as variants emerge and tracking our local hospitalization rates. In order to keep us as safe as possible, the in-person events will take place almost entirely outdoors, and we are requiring that those who choose to gather in-person must be vaccinated, boosted, and provide proof of a negative test within 24 hours of arriving at Highlander.
Please visit this website immediately after registering, and upload your proof of vaccination and boosters.
Twenty-four hours prior to arriving onsite, upload your test results to the same site.
All in-person participants will be required to correctly wear a mask at all times, except while actively eating or drinking. While we will be mostly outside, in order to keep us safe we will require everyone to wear a mask throughout the weekend. 
We will be running a hybrid program to make Homecoming as accessible as possible for folks. 
For more info, contact Brittany Bonner at brittany@highlandercenter.org or 865-360-7761
BRINGING A GROUP
Please fill out one registration form per person. Contact James McKinney at james@highlandercenter.org for group rates. 
ACCESSIBILITY
In-person: Language: Plenary sessions will be in both ASL and Spanish. 
Mobility: Highlander is on a hill. We will be providing a golf cart shuttle system on the Hill to support folks getting up and down the Hill to activities. The majority of the grounds around Highlander are gravel and grass. There are ramps and lifts in each of the buildings where workshops will be held.  If you have specific questions regarding mobility, please contact dalton@highlandercenter.org.
Scent Free: We are encouraging folks to be fragrant- and scent-free as scented products can trigger serious health issues for those with allergies and/or chemical sensitivities. Please refrain from wearing scented products such as perfumes/colognes, hair products, cosmetics, and scented lotions while attending this event, and avoid using scented soaps, shampoos, and detergents prior to the event. Thank you for your consideration for all members of our community. More information on being fragrance-free can be found here.
Virtual: Sessions will be in ASL and simultaneous Spanish interpretation will be provided based on need. 
Volunteering
Would you like to volunteer for Homecoming? We have a host of volunteer opportunities for all skill sets and abilities, and it will take many hands to build the 90th together.
You can sign up to volunteer when you register for Homecoming, on Page 7, In-Person Logistics. If you have already registered, you can modify your registration by logging in on the Registration page and clicking to Page 7.
We'll contact you about scheduling as we get closer to the date.
TARIFAS
Para nuestro 90° aniversario ofrecemos un precio a partir de los 90 dólares. Recomendamos las siguientes tarifas:
Asistentes presenciales:
Fin de semana completo (desde el viernes hasta el domingo) – $190
Medio día (viernes o domingo) – $45
Sábado – $90
Asistentes Virtuales:
Fin de semana completo – $90
Asistencia parcial / Sólo asistir a programación específica – $45
La inscripción te dará la opción de pagar en sitio/en una fecha posterior si no estás segurx de si vas a asistir de forma virtual o presencial.
Si está a tu alcance, te invitamos a que adquieras un boleto de valor entre $290 y $990, y de esta manera apoyes los proyectos actuales de Highlander.
Hay becas disponibles para cuotas de inscripción en persona y virtuales. Envía un correo electrónico a BRITTANY@HIGHLANDERCENTER.ORG para recibir información.
Hay tarifas para familias/grupos disponibles con registro en persona. Envía un correo electrónico a JAMES@HIGHLANDERCENTER.ORG para recibir información.
DÓNDE ALOJARSE
El único alojamiento presencial que Highlander ofrece es acampar. Los siguientes hoteles tienen una tarifa especial para Highlander Homecoming y proporcionaremos un servicio de transporte desde estos hoteles hasta Highlander.
Fairfield Inn & Suites Sevierville Kodak: 3620 Outdoor Sportsman Place, Kodak, TN 37762 (865) 933-3033. RESERVE EN LÍNEA.
Comfort Suites Kodak:161 W Dumplin Valley Rd, Kodak, TN 37764 (865) 933-3131. Llama y menciona Highlander Homecoming.
Hampton Inn & Suites Sevierville @ Stadium Drive:105 Stadium Drive, Kodak, TN 37764 (865) 465-0590. Llama y menciona Highlander Homecoming.
Camping en Highlander: Se puede acampar en Highlander por 20 dólares por persona por noche. Esta cuota se paga en el momento de la inscripción. Habrá acceso a dos duchas con calefacción, duchas temporales, estaciones para lavado de manos y baños portátiles en la zona de acampar. Cada asistente debe traer su propio equipo de acampar.
JÓVENES
Guardería de niñxs/jóvenes: Como nos esforzamos por mantener la seguridad de la próxima generación, seguiremos vigilando de cerca los casos de Covid. En nuestro evento  habrá guardería para  niños de 0 a 5 años. Esto puede cambiar y notificaremos a las personas registradas 6 semanas antes del Homecoming sobre el cuidado de nuestrxs pequeñitxs. 
 La programación del Campamento de justicia para niños (Children's Justice Camp) estará disponible para niñxs de 6 a 12 años.
 El programa Semillas de Fuego (Seeds of Fire) ofrecerá actividades y talleres para jóvenes de 13 a 25 años.
CÓMO LLEGAR Y SALIR DE HIGHLANDER
Avión : El aeropuerto más cercano es EL AEROPUERTO MCGHEE TYSON. Consulta nuestro enlace (próximamente) para reservar el servicio de transporte desde el aeropuerto hasta Highlander o a uno de los hoteles de Homecoming. Este servicio de transporte del aeropuerto tiene una tarifa especial (que es más barata que un viaje compartido) la cual se pagará  directamente a nuestro proveedor de transporte.
VISITA ESTE ENLACE para reservar un servicio de transporte desde el aeropuerto hasta Highlander o uno de los Hoteles para Homecoming.
Transporte a los hoteles: Highlander proporciona un servicio regular de transporte en camioneta desde los hoteles mencionados hasta Highlander.  El horario del servicio de transporte a Highlander es el siguiente:
El viernes 30 de septiembre funciona desde las 3 pm hasta las 11 pm
El sábado 1 de octubre desde las 7:30 am hasta las 11 pm
El domingo 2 de octubre, de 7:30 am hasta las 3 pm
 Carro : Contamos con un amplio  estacionamiento al aire libre donde puedes dejar tu vehículo 
COVID-19
Estamos vigilando de cerca el Covid-19 a medida que surgen variantes y haciendo un seguimiento de nuestras tasas de hospitalización locales. Para mantenernos tan segurxs como sea posible, estamos requiriendo que aquellxs que decidan reunirse en persona deben ser vacunados, reforzados y proporcionar una prueba negativa dentro de las 24 horas antes de llegar a Highlander.
Descargue ESTA APLICACIÓN para cargar sus vacunas y resultados de pruebas
 Todxs lxs asistentes presenciales  deberán usar correctamente  el tapabocas , excepto al ingerir alimentos . Sí, sabemos que estaremos la mayor parte del tiempo al aire libre, y para mantenernos seguros requerimos que todos lleven su tapabocas.
 Vamos a realizar un programa mixto para que el Homecoming sea lo más accesible para la gente.
 Para más información, comunícate con Brittany Bonner en BRITTANY@HIGHLANDERCENTER.ORG o en 865-360-7761
SI VIENE CON UN GRUPO
Por favor, llena un formulario de inscripción por persona. Ponte en contacto con James McKinney en JAMES@HIGHLANDERCENTER.ORG para las tarifas de grupo.
ACCESIBILIDAD
En persona
Idioma: Las sesiones plenarias serán en ASL y en español.
Movilidad: Highlander está en una colina. Dispondremos de un sistema de transporte de carros de golf en la colina para ayudar a la gente a subir y bajar de la colina a las actividades. La mayoría de los terrenos alrededor de Highlander son de grava y césped. Hay rampas y ascensores en cada uno de los edificios donde se celebrarán los talleres. Si tienes preguntas específicas sobre la movilidad, ponte en contacto con dalton@highlandercenter.org.
Libre de olores: Pedimos a lxs asistentes que no usen fragancias ni olores, ya que los productos perfumados pueden provocar graves problemas de salud a las personas alérgicas o sensibles a los productos químicos. Te rogamos no llevar productos perfumados como perfumes/lociones, productos para el cabello, cosméticos y lociones perfumadas mientras asistes a este evento, y que evites utilizar jabones, champús y detergentes perfumados antes del evento. Gracias por tu consideración hacia todos los miembros de nuestra comunidad. Puedes encontrar más información sobre la ausencia de fragancias AQUÍ.
Virtual
Las sesiones serán en ASL y se proporcionará interpretación simultánea al español según las necesidades.
Trabajar como voluntarix
¿Te gustaría ser voluntarix para Homecoming? Tenemos muchas oportunidades de voluntariado para todo tipo de habilidades, y se necesitarán muchas manos para construir el 90o juntxs.
Puedes inscribirte como voluntarix cuando te REGISTRES PARA HOMECOMING, en la página 7, Logística para estar en persona. Si ya te has registrado, puedes modificar tu registro iniciando sesión en la página de Registro y haciendo clic en la página 7.
Nos pondremos en contacto contigo sobre la programación a medida que nos acerquemos a la fecha.
Homecoming is our favorite weekend of the year at Highlander – every September we bring together hundreds of movement family from around the globe who join for fellowship, learning and strategizing, singing and dancing, and deepening relationships over a meal, a beautiful view of the mountains, or in the quiet moments the Hill provides.
We all leave Homecoming reenergized and recommitted to our work back home, knowing that we are in solidarity and community with a global network of freedom fighters working on the frontlines for transformative social change.
In 2020 and 2021, we hosted our annual Homecoming online to ensure the safety of our guests and staff during the pandemic. We are excited that our 90th annual Homecoming in 2022 will be a hybrid event allowing us to come together again in person on Highlander's hill alongside virtual programming to celebrate nine decades of building power and movement in the U.S. South. 
Until then, we hope you'll enjoy revisiting these recordings from previous Homecoming gatherings. Stay tuned for details coming soon on Highlander's 90th anniversary Sept. 30 to Oct.2, 2022!
Highlander's 89th Homecoming: "Reflecting and Rising"
Sept. 24-26, 2021
2019: Highlander's 87th Homecoming "Don't Stop, Get It, Get It"
2018: Highlander's 86th Homecoming "#TheFutureIs"
2017: Highlander's 85th Homecoming "The South's Got Something to Say"
2016: Highlander's 84th Homecoming "Collective Courage"
2015: Highlander's 83rd Homecoming "No Longer Erased"