Welcome to the Septima Clark Learning Center, Highlander's new library and archive!
We want to thank all of the generous donors who made this new facility possible, and we look forward to serving movement on-site and on-line! In this beautiful new building, we have a radical bookstore, we are recovering and digitizing historical documents, we are developing a history timeline of our work to celebrate Highlander's 90th anniversary in 2022, and we are redeveloping our onsite book collection to include materials directly related to Highlander's work and methodologies.
The Septima Clark Learning Center includes a multiuse room for films, displays, workshops, healing space, or art-making and has an incredible deck and porch to enjoy the breathtaking Smoky Mountain views.
We are really looking forward to welcoming guests later this year as public safety allows. In the meantime, our staff librarians Susan Williams and Ashby Haywood are hosting a monthly series online to dig deeper into the Septima Clark Learning Center's many offerings. "Up Close " recurs every Third Thursday at 7pm ET- register today for each upcoming session!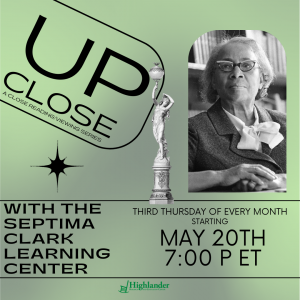 In case you missed them, check out the previous "Up Close" sessions: 
The next  session is July 15 with Kim Ruehl and Steve Preskill, authors of the new biographies of Highlander staff members Zilphia Horton and Myles Horton
The inaugural May 20 session honored the Learning Center's namesake, Septima Clark, the Grandmother of the Civil Rights Movement, featuring members of her family sharing stories of her  life and legacy.