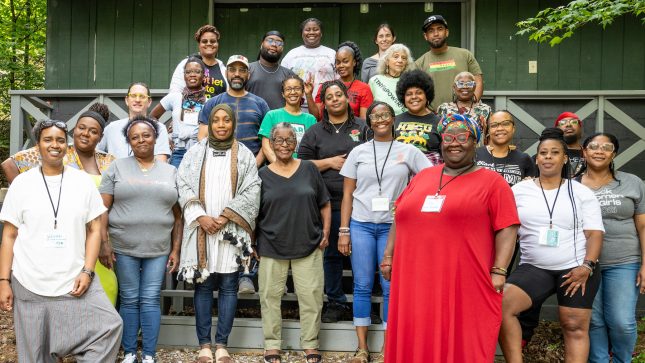 The PAR Institute (Participatory Action Research) is a Highlander project supported directly by the Surdna Foundation's Thriving Cultures initiative. By utilizing popular education, cultural organizing, and other social change tools, the PAR Institute supports BIPOC artists and other culture workers in local communities. Regranting partners enable Black, Indigenous, People of Color (BIPOC) and low-income artists to implement projects and develop narratives that imagine and test more-equitable systems across a variety of sectors, including: agriculture and food, economic development, education, health, housing, immigration, public safety, transportation, and workforce development.
Participatory Action Research (PAR) challenges the belief that only academics or trained professionals can produce accurate information, and instead recognizes information as POWER and puts that power in the hands of people seeking to overcome problems in their daily lives. PAR is a collective process of investigation, empowerment, and action. The people most affected by the problems, sometimes with the help of "experts", investigate and analyze the issues, and ultimately act together to bring about meaningful, long-term solutions.
Highlander is partnering with Alternate Roots, National Performance Network, and the Transforming Power Fund to implement the project and support the Spring 2023 Mid-South Institute Cohort members. 
Learn more about the project, our partners, the cohort members,  and PAR here where you can also access videos from our presenters and participants and access resources about the PAR methodology, cultural organizing, and more!
Learn more: Email tufara@highlandercenter.org or april@highlandercenter.org