Register today for our next Threads session, "Cultural Organizing 101" July 18 at 7pm ET!
Highlander defines cultural organizing as the strategic use of art and culture to promote progressive policies with marginalized communities. Developed by Tufara Waller Muhammed and Ebony Noelle Golden, Highlander explains Cultural Organizing as a triad: faith, spirituality and or/wellness traditions; the practice of art and culture, and policy. It centers collective learning, intergenerational organizing and moves through the creation of art, the practice of healing and the implementation or change of policy that shifts power.
In this workshop, participants will share experiences and learn how to expand the role of art and culture in their organizing and advocacy efforts, activating community members to develop cultural tools that can help bring more interest and energy to issue campaigns. 
Register now
to join us.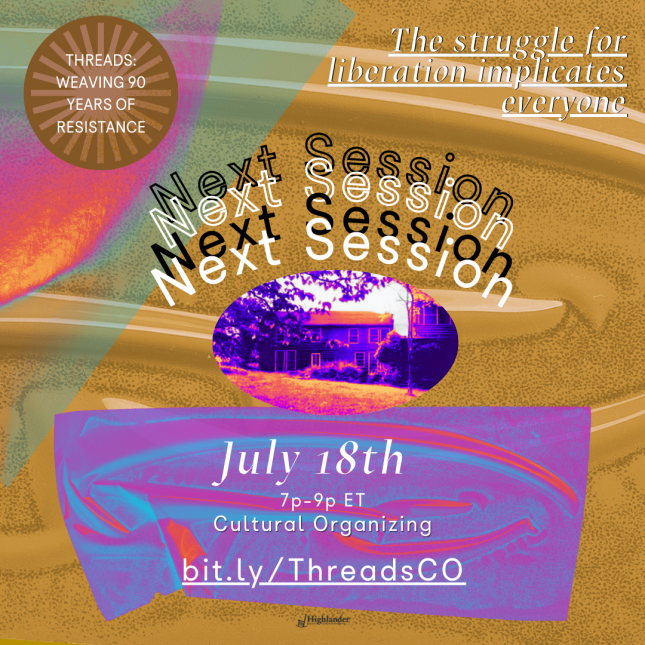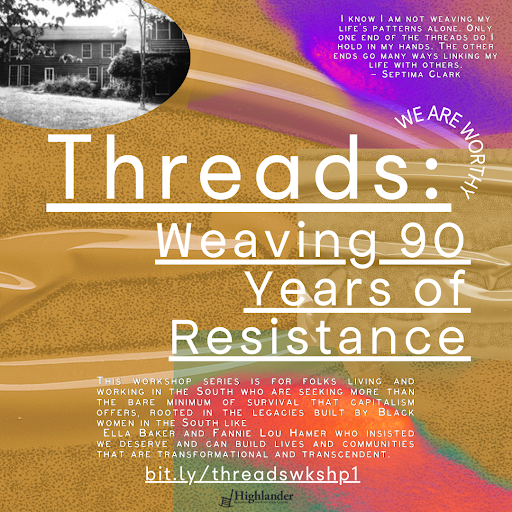 Our 2022 Threads workshop series is about grassroots community organizing for transformation, combining popular education methodologies with campaigns to demand a better world and to build real community-based alternatives. It's for folks living and working in the South who are seeking more than the bare minimum of survival that capitalism offers, rooted in the legacies built by Black women in the South like Ella Baker, Fannie Lou Hamer, and Septima Clark who insisted we deserve and can build lives and communities that are transformational and transcendent.
Participants are pushed to think beyond the constant reactionary state created by the converging crises of fascism and racial capitalism amid the pandemic to imagine what alternative systems and ways of living look like in the South, including solidarity economies, collective governance, and shared power. The series is a springboard for folks to build analysis, share knowledge, and take action through serious, catalyzed grassroots organizing. 
"I know I am not weaving my life's patterns alone. Only one end of the threads do I hold in my hands. The other ends go many ways linking my life with others." – Septima Clark
Stay tuned for more upcoming sessions exploring:
Highlander Methodologies: Language Justice
Highlander Methodologies: Intergenerational Organizing
Highlander Methodologies: Cultural Organizing – Coming in July!
Check out the Threads Toolkit for more self-guided learning! Complete the form below to immediately access the recordings, full resources, and materials on each topic.
The Threads Toolkit is a self-guided learning resource that reflects and expands content from the Threads workshop series. We hope you'll explore and engage with each module to strengthen your practice and analysis in your own community work.
Complete this form to access the Threads Toolkit!