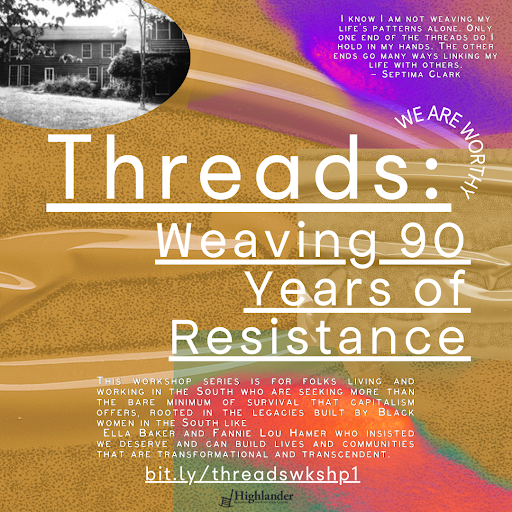 Our 2022 Threads workshop focused on grassroots community organizing for transformation, combining popular education methodologies with campaigns to demand a better world and to build real community-based alternatives.
Participants were pushed to think beyond the constant reactionary state created by the converging crises of fascism and racial capitalism amid the pandemic to imagine what alternative systems and ways of living look like in the South, including solidarity economies, collective governance, and shared power. The series served as a springboard for folks to build analysis, share knowledge, and take action through serious, catalyzed grassroots organizing. 
We invite you to join in the learning by accessing our Threads toolkit through the form below, which will grant you access to recordings of the sessions and supplementary readings and materials to deepen your skillset and strategies.
"I know I am not weaving my life's patterns alone. Only one end of the threads do I hold in my hands. The other ends go many ways linking my life with others." – Septima Clark
The Threads Toolkit is a self-guided learning resource that reflects and expands content from the Threads workshop series. We hope you'll explore and engage with each module to strengthen your practice and analysis in your own community work.
Complete this form to access the Threads Toolkit!