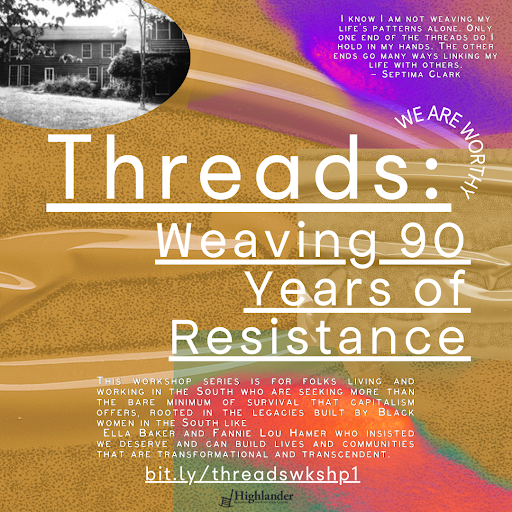 Our 2022 Threads workshop series is about grassroots community organizing for transformation, combining popular education methodologies with campaigns to demand a better world and to build real community-based alternatives. It's for folks living and working in the South who are seeking more than the bare minimum of survival that capitalism offers, rooted in the legacies built by Black women in the South like Ella Baker, Fannie Lou Hamer, and Septima Clark who insisted we deserve and can build lives and communities that are transformational and transcendent.
Participants are pushed to think beyond the constant reactionary state created by the converging crises of fascism and racial capitalism amid the pandemic to imagine what alternative systems and ways of living look like in the South, including solidarity economies, collective governance, and shared power. The series is a springboard for folks to build analysis, share knowledge, and take action through serious, catalyzed grassroots organizing. 
"I know I am not weaving my life's patterns alone. Only one end of the threads do I hold in my hands. The other ends go many ways linking my life with others." – Septima Clark
Stay tuned for more upcoming sessions exploring:
Thriving Groups, Thriving Communities – REGISTER NOW!: May 11, 7pm to 9pm ET

Join PeoplesHub and Highlander Center. Behind every victory and win of our movements for social change there has always been a group of dedicated and passionate people who've visioned a better future and organized and mobilized people to make it possible. There have also been moments where our groups have fallen apart, been infiltrated or just disintegrated due to many reasons that could have been prevented. In this workshop we will study closely the elements that have been essential to groups and communities thriving in their struggle for liberation as well as the elements that need to be strengthened in our current movements in order for us to stick together and transform society. (Note: We may organize small breakout groups by age or race/ethnicity, which is why we ask for your age and race/ethnicity on the registration form.)

Únete a PeoplesHub y al Centro Highlander. Detrás de cada victoria y triunfo de nuestros movimientos por el cambio social siempre ha habido un grupo de personas dedicadas y apasionadas que han visionado un futuro mejor y han organizado y movilizado a la gente para hacerlo posible. También ha habido momentos en los que nuestros grupos se han desmoronado, han sido infiltrados o simplemente se han desintegrado debido a muchas razones que podrían haberse evitado. En este taller estudiaremos de cerca los elementos que han sido esenciales para que los grupos y las comunidades prosperen en su lucha por la liberación, así como los elementos que deben fortalecerse en nuestros movimientos actuales para que nos mantengamos unidos y transformemos la sociedad.  (Nota: Es posible que organicemos pequeños grupos por edad o raza/etnia, por lo que pedimos su edad y raza/etnia en el formulario de inscripción).

Highlander Methodologies: Language Justice
Highlander Methodologies: Intergenerational Organizing
Highlander Methodologies: Cultural Organizing
Check out the Threads Toolkit for more self-guided learning! Complete the form below to immediately access the recordings, full resources, and materials on each topic.
The Threads Toolkit is a self-guided learning resource that reflects and expands content from the Threads workshop series. We hope you'll explore and engage with each module to strengthen your practice and analysis in your own community work.
Complete this form to access the Threads Toolkit!