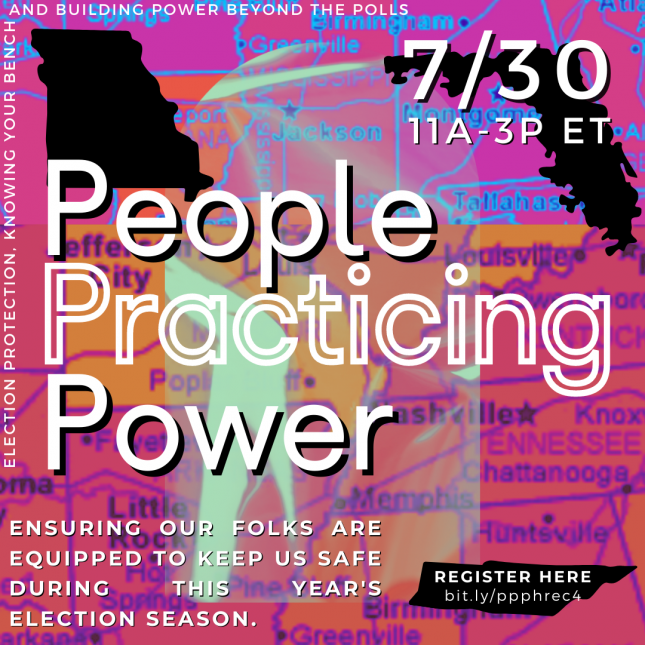 Denzel, Highlander's Electoral Justice Researcher and Educator, is leading a Community Governance Mapping Project and co-facilitating an Electoral Justice workshop series, "People Practicing Power" this Spring.
The "PPP: People Practicing Power" series is a Highlander intervention ensuring our folks are equipped to protect themselves during this year's election season, know who is running and what's at stake, and begin experimenting with ways to build power between election cycles . On Saturdays before each Southern state's primary, we will invite our folks from each state to ground themselves in Election Protection, Knowing Their Bench, and building Power beyond the Polls. 
We are inviting our folks and their community members to join your state's workshop and be prepared to discuss the elections in your area and how it will impact your communities.
PPP workshops will be held on the following dates from 10am CST/11am EST to 2pm CST/3pm EST via Zoom
:
July 30: Missouri, Tennessee, Florida – REGISTER TODAY
October 29: Louisiana
For the Community Governance Mapping Project, Southern grassroots organizations doing Electoral Justice work will be interviewed to both gain a deeper understanding of their landscape and work, as well as build a Highlander ecosystem of Southern formations dedicated to learning and practicing Community Governance. If your organization is interested in being interviewed,
please complete the CG Interview Interest Form here
.