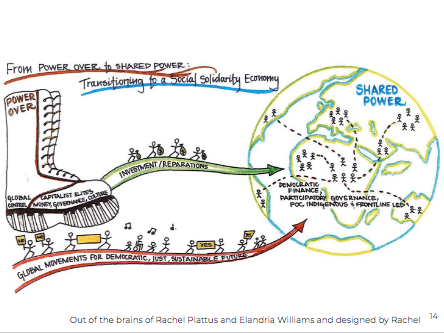 Highlander's Economics and Governance program supports groups of folks organizing in communities to maintain, deepen, expand, and/or strengthen their solidarity economy organizing and connect with other communities in the region with similar goals and vision.
Sharing resources, caring for our neighbors, respecting nature, developing collaborative relationships, and broadening our solidarity networks are all things that can reduce our reliance and dependence on racial capitalism and its economy of domination.
When we say solidarity economy, we mean a plurality of approaches across the resist-and-build spectrum: care work, mutual aid, worker cooperatives, eviction defense, people's assemblies, police accountability and/or defund police campaigns, study groups, participatory budgeting, community land trusts and housing cooperatives, tool libraries, savings pools, transformative and/or restorative justice, relational organizing, place-based organizing, and more. Check out our Beautiful Solutions cards for other inspiring examples!
Weaving these approaches together, we can build a solidarity economy (SE) rooted in the values of solidarity, cooperation, equity, democracy, sustainability, and pluralism. SE expands community ownership, participatory democratic governance, and people power.
This all starts with our communities getting organized, learning together about our local economics and governance, and clarifying a shared vision. Our Mapping Our Futures curriculum supports communities to do just that with a popular education approach. It is our intention for the work and lessons that are being learned on the ground to inform Highlander's approach, the tools we offer, and our programmatic interventions.