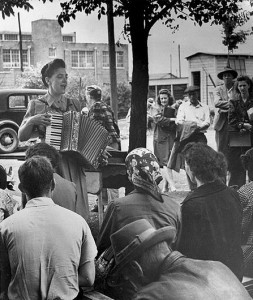 Zilphia Horton playing music
Zilphia Horton Cultural Organizing Project Goes to Dallas!
Registration is closed as of 4-18-2014
Highlander continues to use art and culture to empower marginalized communities across the South and Appalachia with the Zilphia Horton Cultural Organizing Project. The endeavor is named for Zilphia Horton, a musician, organizer, and wife of Highlander's founder Myles Horton. It was Zilphia who showed Myles the power of culture to unite, inspire, and organize people for social movements, a legacy Highlander proudly carries on in her honor. Highlander is now accepting applications for the next phase of the project: the 2014 Zilphia Horton Cultural Organizing Intensive. Using the formula of the SNCC Leadership Academy, the Institute will bring 20 artists and cultural workers to Paul Quinn College to help them better understand organizing.
We are looking primarily for self-identified young adult artists (18 to 35), based in the U.S. South or from the Global South, who are interested in learning about the cultural organizing process and are ready to transform into cultural workers using their art in the pursuit of justice. We encourage community-based artists and members of arts collectives to apply as well.
The Intensive will take place from Friday, April 25th until Sunday, April 27th, 2014 with 20 participants. The faculty will be comprised of community organizers and the Highlander Education Team, with units of study covering Highlander's history and methodology, Cultural Work and Cultural Organizing, Organizing 101, Nonviolence, and more.