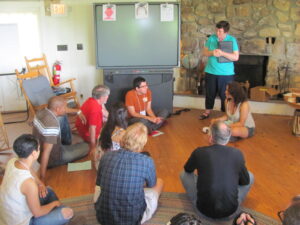 Highlander's fifth annual Witty & Wonderful, Wild & Wacky Workshop Work Week was a huge success, thanks to the fantastic group of organizers, activists, scholars, and students who came from Utah to western Mass and everywhere in between to engage with Highlander and its work. In the mornings, Highlander's staff led workshops on our methodologies of popular education, cultural organizing, and participatory action research, and explored how to put those methodologies to use in work in their communities.
In the afternoons, participants worked in service to the land and place of Highlander all across the Hill, from clearing and expanding the hiking trails to wrangling the goats, to transplanting herbs and clearing out invasive plant species, or washing windows in the Workshop Center. Evenings of cultural sharing gave the participants the chance to learn about each other's lives, backgrounds, and work, and the Friday night square dance gave everyone the chance to cut loose after an exciting, productive week.
Workshop participant, Dr. Sherry Herbers, treated Highlander's staff to a wonderful presentation, dramatic reading, and discussion about Dr. Lilian Johnson, the educator and former college president who donated the land for Highlander Folk School to Myles Horton and Don West in 1932. Herbers has written a full act play about the start and early days of Highlander and Dr. Johnson's relationship to those efforts.
Highlander's Greensboro Justice Fund Fellows were back on the hill for W-7.5 as part of their fellowship activities, and spent an afternoon with Guy and Candie Carawan discussing organizing for the Long Haul.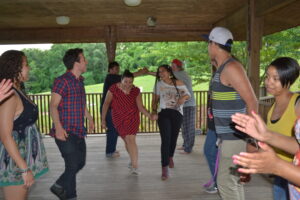 Greensboro Justice Fund Fellow Jose Eduardo Sanchez said he would be taking home "many stories of struggle and hope and the renewed energy and love to keep working in my community."
And David Doty of The Interfaith Resource Center for Peace and Justice, said, "I wish I had done this forty years ago."
Thanks to everyone who made the week such a success. We can't wait to do it again next year! Mark your calendar now for W-7.6, May 27-31, 2014.