Join us for the 7th Annual
Wild & Wacky, Witty and Wonderful Workshop Work Week
A time for fun, education and service to Highlander for the long haul!
May 26-30, 2015
Click here to apply. Applications are close as of 4-29-15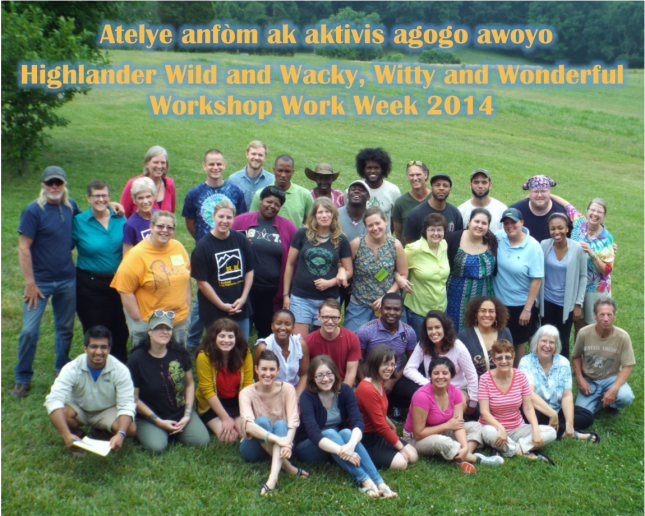 W.7 Photo 2014
Come to the mountains of east Tennessee and spend one of the best starts to your summer ever with Highlander staff and people from around the country at W-7.7, our 7th Wild & Wacky, Witty & Wonderful Workshop Work Week, May 26-30, 2015. Starts 6:00 pm on Tuesday, May 26, and concludes with lunch at noon on Saturday, May 30.
SOCIAL CHANGE WORK: Spend half of your day in those renowned rocking chairs engaging on the idea of Highlander – workshops on popular education, organizing, movement building, & the history of social change and what all that can mean in your organizing and community work today.
WORK TEAMS: Spend another part of your day in service to the place of Highlander. As part of
a team – and in a praxis that continues learning from each other through dialogue and educational
exchange – prune in the orchard, cultivate in the garden, clear a hiking trail, plant trees 'on the hill',
file in our library, or build a bench, for example. There are jobs for all levels of skill and ability.
EVENINGS: As the sun prepares to set, we continue the fun. In the evenings, we'll sing, share stories
around a fire, and square dance with a caller and live band (lessons provided).
DETAILS/COST: It's a proven good ol' Highlander throw-down that starts with supper at 6:00 pm on Tuesday, May 26, and concludes with lunch at noon on Saturday, May 30. Sliding scale $350-650. Some partial scholarships available. Please complete an application form before paying. If you're applying for a scholarship, please call us to request a form: Susan Williams at susan@highlandercenter.org or 865-360-7042
For more information and how to apply email or call Susan Williams at susan@highlandercenter.org or 865-360-7042