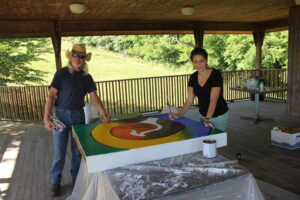 There are some big improvements afoot here on the Hill, starting with new roofs for the Office, Bays Mountain House, the Pavilion, and our beloved Horton House. These roofs were badly needed after severe storms in spring 2011 damaged the existing ones. Thanks to David Lowe's Roofing for getting them up so quickly!
More renovations are on their way thanks to the Generations to Come Capital Campaign, which will make our existing buildings more sustainable, allow for more visitors while keeping workshop sizes intimate, and establish a new lodge and the Septima Clark Learning Center. You can find out more details about the campaign and donate here. In the meantime, check out the video below to see a little glimpse of the progress to come: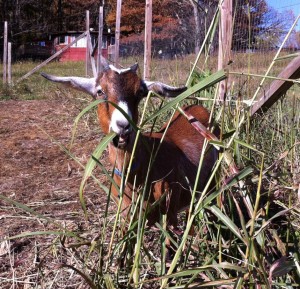 And Highlander is pleased to welcome its two newest 'staff members': the goats Papi and Chucho, named by Highlander's former organic gardening intern Maritza Perez. The goats originally came with their sister as temporary workers charged with weeding and fertilizing the garden in preparation for winter, but once Highlander's staff learned that two of its own were scheduled to become goat meat upon their return home, worker solidarity triumphed and Papi and Chucho became permanent members of the team.
They now spend their days tending the lawn, providing companionship for visitors and staff enjoying the grounds, and occasionally nibbling the fingers of those who come to pet them. They insist to anyone who will listen that they are starving, but their bellies seem to indicate otherwise.