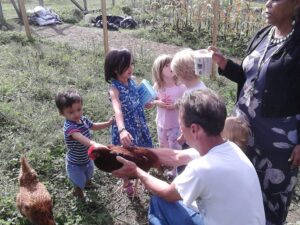 Dear Local Prodcuer,
Greetings from the Highlander hill, we hope this finds you all warm and rested. As we gear up for one of the busiest summers yet at the Workshop Center, we are planning and preparing to serve a couple thousand meals. We are doing a lot of thinking and strategizing to make those meals as responsibly sourced as possible. This is new to us. We are still trying to build relationships and make new connections with local folks. Last season, we had amazing chicken from the Wisner Family Farm and eggs from Holly Tree Farm and help from one of our amazing volunteers, Peggy Chandler. We were also able to take a little excess produce from a couple of CSA's nearby such as Good Earth Farmers and Care of the Earth Farm.
Highlander continues to build with the help of friends. Don Jones, a Highlander volunteer, regularly attends Highlander events. His passion for our methodology drives him to help us in wonderful ways. He has returned several times this year to volunteer his services, including environmental testing on the property. Recently, he and three generations of his family came back to begin our spring crop under lights in the basement of one of our homes. Because of his commitment, we are looking forward to a beautiful organic garden this year. It's that impact that Highlander has that binds people to her and why the beloved community she has is so strong.
Thinking about this next season, the opportunities to build upon old relationships and grow news ones is very exciting. We believe that there is a strong local movement around food justice and sustainable practices. We also know that there are great things going on around urban gardening and teaching folks to garden and preserve. Highlander uses every opportunity to spark thought and conversion, to inspire people to live consciously and strive towards justice. We know how to bring people together.
It's not possible for us to be the authority on sustainable practices, but it's possible for us to set an example. We want to spark those thoughts and conversations by making our guests aware of those practices and our choice to sustainable sourcing. We also want to strengthen our relationship and to create new connections with people who share a passion for democracy, sustainability, and justice we are planning a strategic convening around organically grown local food and local sources for sustainable products. There will be a brief Highlander History, a semi structured conversation, and a shared meal with lots of opportunity for open fellowship and sharing of thoughts and ideas.
We would love for you to attend and to bring a friend for an afternoon of community building and fellowship. The event will be on April 5th at 2PM. Please RSVP as soon as possible to Thomas Coward at tcoward@highlandercenter.org or at 865-360-4302.
Love, Peace, and Equality
Workshop Center Staff
Sustainable Sourcing Strategic Convening Spring 2014 Agenda
2PM- Welcome to Highlander-Introduction
2:15PM-Highlander History
2:45PM Group Agreements
3PM Identifying Common Ideas and Goals
3:20PM Big Group Mapping of Common Ideas and Goals
4PM-Break
4:15PM-Identifying Common Challenges-small groups
4:35PM Big Group Mapping of Common Challenges
5PM-Next Steps
5:30PM Dinner and Fellowship