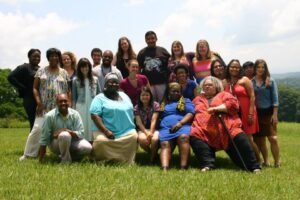 The 2nd Zilphia Horton Cultural Organizing Institute brought cultural workers and groups from Nashville, New Orleans, Baton Rouge, and Philadelphia to Highlander this June to explore how to incorporate culture, song, and art into organizing campaigns in their community.
The Institute was framed with a focus on intersectionality and organizing across differences and included an introduction to the nuts and bolts of cultural organizing, a song-sharing workshop, story circles, art making, and time devoted to health and wellness. Participants also had the opportunity to engage in international conversations with Tutu Alicante, who works for justice in Equatorial Guinea, Zambian activist Kiss Abraham, and South African activist Nkwame Cedile, about connections between the US South and the Global South, cultural organizing from their lens, and how to use art as activism.
Throughout the week, the groups worked with each other and with Highlander's team of facilitators to develop detailed work plans to strengthen their campaigns through the use of culture, and they have now returned to their communities to put those plans into action. Goals included: to ensure diversity and dialogue in the immigrant and refugee rights movement, to help white organizers address issues of white supremacy and privilege, to restructure their city council for greater representation of the people, to promote community healing through intentional use of public space, and to address environmental justice in the Louisiana community surrounding the world's largest petrochemical plant.
The Institute is named in honor of Highlander's first cultural organizer, Zilphia Horton, and we look forward to watching her legacy continue and deepen through today's cultural organizing  work in communities across the region.