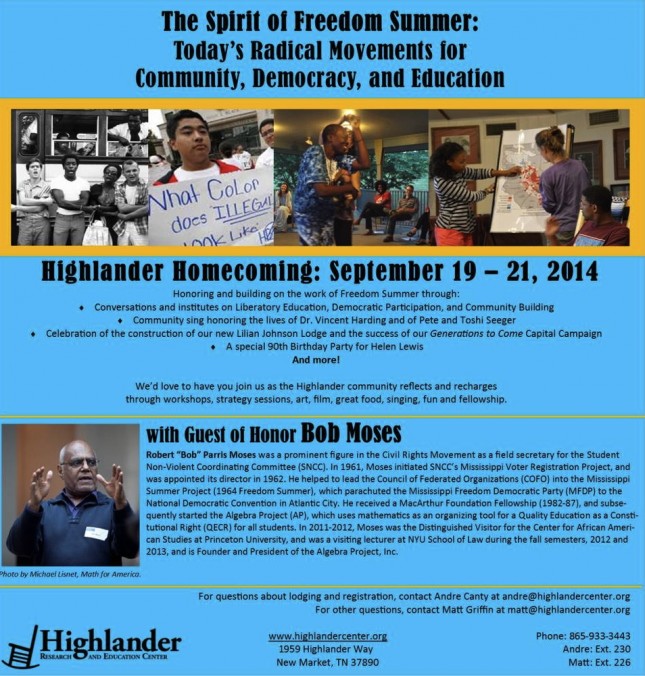 Click here to register for Homecoming
Update: We're thrilled to announce that Bob Moses will join Highlander's Homecoming this year as guest of honor! Mr. Moses initiated SNCC's Mississippi Voter Registration Project and was appointed its director in 1962. He helped to lead the Council of Federated Organizations (COFO) into the Mississippi Summer Project which became known as Freedom Summer. We are honored that he'll be a part of Homecoming this year.
Plan to be on the Hill for Highlander's annual gathering this September 19-21. The weekend will include reunions, group discussions, a Children's Program, author-activist discussions, cultural performances, film, music, food, and, of course, reflections and a special party in honor of Helen Lewis. Homecoming will also be featuring Bob Moses, prominent figure in the Civil Rights Movement who helped lead the Council of Federated Organizations into the Mississippi Summer Project. The Community Sing will feature Bettie Mae Fikes of the SNCC (Student Non-violence Coordinating Committee) Freedom Singers. There's a suggested donation of $20 for the Helen Lewis' 90th Birthday Party. Saturday registration is $50 and $30 for Sunday. For both Saturday and Sunday, there's a sliding scale of $82-$382.   Camping is available at $15 per person at night.  Saturday includes an opening plenary, methodology institutes, lunch, dinner and a dance. Sunday includes a cultural performance, lunch, round-table discussions, activist/author talks, films, and music. On-site registration for Sept. 20-21 starts at 8am. Helen Lewis' Party will be Friday evening,  Sept. 19 7-9pm, Saturday's Programming runs from 10am-9:30pm on Sept. 20, and Sunday's programming will run 9am-1pm ending with lunch on Sept. 21. There's a $20 fee for dinner if would like to come for Saturday dinner.
Downloadable Online Schedule

Homecoming 2014 Schedule – Time Grid< Printable Homecoming Schedule
The cut-off date to reserve the Hampton Inn and Suites at $99 per night is Sept. 1st. For Fairfield, the cut-off date is Aug. 29.   Rates at the hotel will be honored for the dates of Sept. 19-21.
Hampton Inn and Suites ($99/night) Cut-off date: 9-1-14
105 Stadium Dr.
Kodak, TN  37764 Phone: 865-465-0590
Fairfield Inn and Suites ($95/night) Cut off date: 8-29-14
3629 Sportsman Place
Kodak, TN  37764 Phone: 865-933-3033 Code for rooms is HIGS
Day's Inn ($49.95/night)
3402 Winfield Dunn Pkwy.
Kodak-Sevierville, TN  37764
Check out our Facebook page! Contact Andre Canty at andre at test.highlandercenter.org/865-360-7321 or Matt Griffin at matt at test.highlandercenter.org/865-228-7900 for any more information.