Skip to content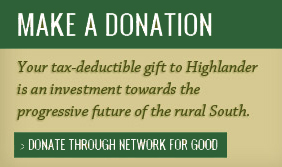 HARRY LASKER MEMORIAL LIBRARY (library, archive, and bookstore)
Highlander's Resource Center features a treasure trove of social justice resources, both historical and current. The Resource center houses historical information through the archives and provides a broad range of social change materials for sale in the bookstore. The center also holds a large collection of adult education materials, including curricula, books, video and hanging file collections, and interviews as well as many photographs from Highlander's historical to current programs. Highlander also provides training and information about the institution's work and methodologies.
Click here for the bookstore.
Click here for the archives.
HOURS
The Harry Lasker Memorial Library at the Highlander Research & Education Center is open most regular business hours. Staff work to accommodate groups on weekends. We recommend that you contact Highlander before arriving to ensure that someone will be in the library to meet you.
To find out more, contact Susan Williams at 865-943-3443 ext. 229.
BRIEF HISTORY OF THE RESOURCE CENTER
The original Highlander library was established in 1933, at the Highlander Folk School in Monteagle, Tennessee, with the gift of autographed copies from Upton Sinclair of all his works. Further donations expanded the collection to about 4,000 volumes by 1934. Music was an important part of the collection in these early days. In 1938, library outreach to rural residents began with the Traveling Library program. Educational extension programs for workers in Memphis and Knoxville began in the 1940s.
In 1961, Tennessee revoked the charter of the Highlander Folk School, confiscated and sold its property with no compensation. Most of the library's books were sold, but those that were salvaged formed the nucleus of a collection when the newly-chartered Highlander Research and Education Center opened in Knoxville in the same year. Once again, Upton Sinclair donated the first of the many books that would re-build the collection to over 1,000 volumes.
In 1971, the Highlander Research and Education Center returned to its rural roots by relocating to a farm in Jefferson County, east of Knoxville. In 1977, a former staff residence on the new site was renovated to house the Harry Lasker Book and Pamphlet Collection and to provide participatory research training and information on-site, in the days before personal computers and internet.
The resource center currently holds the bookstore, the archives, and collections relating to Highlander's work. We receive many requests for information and use of photographs from the collection. Highlander staff also host groups and visitors, and provide popular education, cultural organizing, and participatory research trainings.
Volunteer Weekend at Highlander Center