Skip to content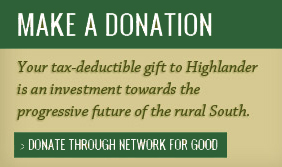 The newly renovated Horton House, former home of Highlander's founder Myles Horton, is available for rent by individuals, small groups, and organizations as a site for meetings, writing projects, and individual or group retreats.
The house is located at the top of the ridge on Highlander's property, with a spectacular view of the Great Smoky Mountains. It can accommodate up to eight people for multi-day meetings and retreats, and up to fifteen people for one-day meetings. Groups with more than fifteen people should use our Workshop Center.
Horton House, exterior view
FACILITIES
The Horton House has the following facilities:
A full kitchen with pots, pans, cooking utensils, plates, dishes, silverware, glasses, dishwasher, microwave, etc.
Three bedrooms
A large bedroom with three twin beds
A small bedroom with a double bed
A small bedroom with a built-in twin bed
(There is also a couch in the living room that folds out to a double bed.)
A large living/dining room facing the mountains.
The dining room section has a dining room table that can seat up to 10 people for a meal.
The living room section has a couch, two easy chairs, and 8 rocking chairs.
A large deck and adjacent patio, both of which also face the mountains.
An accessible full bathroom with a roll-in shower.
The house can sleep 6 people with one person in each bed (including the fold-out couch). It can sleep 8 people if two people use each the double beds.
For a day meeting, the house can accommodate up to 15 people. Larger groups should use our Workshop Center, which can accommodate up to 35 people. (Click here for information about the Workshop Center.)
FEES AND RESERVATIONS
For information about prices and availability, contact us at 865-933-3443 or workshopcenter at test.highlandercenter.org.
GETTING HERE
Click here for directions to Highlander.