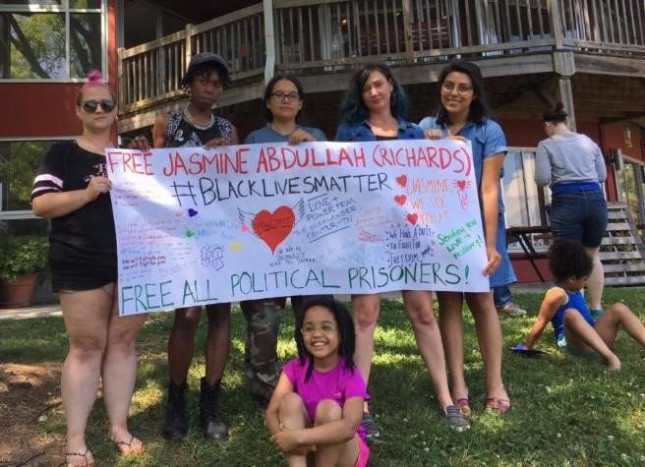 Greensboro Justice Fund Fellows 2016-17 began their fellowship this week by attending Highlander's Wacky Workshop Week.
Pictured here are, from left to right: Tiffany Marceaux McCulley, Ekua Adisa, Daniela Saczek, Courtnay Coco Papy, and Stacey Padilla.
We're excited to introduce the the 2016-17 class of the Greensboro Justice Fund Fellowship at Highlander! Please join us in welcoming Ekua Adisa, Daniela Saczek, Stacey Padilla, Tiffany Marceaux McCulley, and Courtnay Coco Papy.
Each year, five organizers from across the South are selected for the yearlong learning and relationship building fellowship. The fellowship was created in honor of the five community organizers – Cesar Cauce, Mike Nathan, Bill Sampson, Sandy Smith, and Jim Waller – who were murdered by the Ku Klux Klan and the Nazi Party on November 3, 1979.
Ekua Adisa is a queer non-binary spoonie* (see "Spoons Theory") of African descent. Their work in the world is rooted in healing and housed in the South of the US, which they see as a place of potent power for healing, especially for people of African descent. Their work can look like hosting retreats, workshops, and conversations for folks to heal and evolve within, providing one-on-one spiritual council and aiding folks in connecting with their ancestors for guidance, or building community on porches while drinking #Lemonade. Ekua is also a ritual performer, healing artist, and a liberationist. They work for themselves in community and collaboration, and are committed to all things grassroots, including but not limited to #GrassrootsReparations. They believe that change happens from within and the best way to invite change is to model it. They do their best to model this truth in their parenting of their two and a half year old child who is called Akoma.
Daniela Saczek is Venezuelan and was raised in Miami, Florida. She attended Florida International University for undergrad where she studied Political Science and the University of Miami where she received a Masters in the discipline of Community Psychology. During her years in undergrad,  she became involved with the Student/ Farmworker Alliance organization and discovered a passion for community organizing. Since 2011 she has been involved with various organizations and campaigns in Florida, including participating in the Black Lives Matter and Immigrant Rights Movements.
Stacey Padilla has spent most of her life in the foothills of East Tennessee, among the first generation of her Mexican-Puerto Rican-Lithuanian family living in Appalachia. She graduated from Maryville College in 2015, where she double-majored in Sociology and Spanish, minored in International Studies, and became a Certified Nonprofit Professional. She works for her local domestic violence program as an Advocate for victims staying in the confidential safe house, as well as working with the community as the Volunteer Coordinator. Stacey's involvement in the anti-violence movement also includes membership in el Comité Popular de Knoxville, a grassroots immigrants' rights organization, and the Tennessee Immigrant and Refugee Rights Coalition's Tuition Equality Now! Campaign, working to allow in-state tuition for undocumented college students in Tennessee. She is also enthusiastic about reproductive rights, education, and her cat Mazapán. She is excited and honored to be a part of Highlander.
Tiffany Marceaux McCulley is an organizer and creative spirit living and co-resisting in New Orleans where she organizes white folks for racial justice with European Dissent New Orleans.  She is an Instagram admin for The Body Is Not An Apology, promoting body positivity and unapologetic radical self-love as tools for collective liberation.  She is the co-founder of Grrrl Scouts, a feminist collective and scout troop for adult women.  She enjoys making zines, exploring the intersection of feminism and science fiction, and working with herbs.
Courtnay Coco Papy is an activist, writer and native Savannahian who has returned home and happily so. As lead organizer of Emergent Savannah, she develops the vision of the Emergent Savannah and takes care of the nitty-gritty operational management. She is a Step-Up Savannah Neighborhood Leadership Academy graduate and served as the
Creative Director of the Flannery O'Connor Book Trail and currently serves on the Department of Cultural Affairs Commission Board, works as an independent educator across Savannah, predominantly in Title 1 schools and after-school programs, is a PEN America Prison Writing Fellow and also works as Assistant Director of Communications at a local independent school.