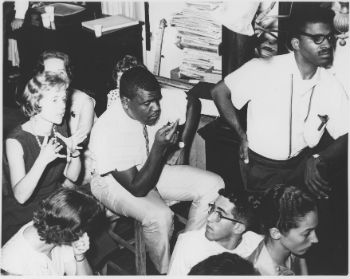 Highlander mourns the loss of Aimee Isgrig Horton, who passed away at 12:35 on the afternoon of November 15. Born in 1922, Aimee, a native of Wisconsin, worked with World War II refugees and Illinois students fighting for Civil Rights, and she was the Executive Director of the Illinois Commission on Human Relations when she met Myles Horton and married him at Highlander in April 1961. Following the ceremony, Aimee accompanied Myles on a fundraising trip and helped strengthen Highlander's resources at a time when legal challenges and a loss of tax-exempt status threatened its stability.
Later, Aimee worked with Highlander's Citizenship Schools, as well as training white students at Highlander, who then moved to Biloxi, Mississippi to build support for SNCC, SCLC, and CORE during Freedom Summer, and writing  The Highlander Folk School: A History of Its Major Programs, 1932-1961.  And she took Highlander's methodology of popular education with her when she returned to Chicago, founding the Lindeman Center, where the community worked together to develop grassroots solutions to its problems.
Aimee's work, both at Highlander and as an organizer, has enriched us all, and our thoughts and prayers are with Charis, Thorsten, and all of her family. She will be missed.
We'd also like to take a moment to remember Civil Rights leader Lawrence Guyot, who passed away last month at the age of 73. Mr. Guyot was an early member of SNCC and the director of the Freedom Summer Project who fought tirelessly, despite repeated imprisonment and beatings, to secure equal rights for African-Americans. In 1963, when five Civil Rights workers on their way home from workshops on Johns Island, SC, the home of Highlander's Citizenship Schools, were arrested, jailed, and beaten simply for using the bus stop, Mr. Guyot led a group of SNCC workers to the jail to free them, where he too was detained and abused "so badly," according to Bernice Robinson, "he couldn't use one of his arms and for several hours couldn't even be located."
Despite this, Lawrence Guyot remained dedicated to building bridges between different communities. When some members of COFO objected to whites being allowed to take part in the group's voter registration efforts, Guyot argued that all people must be included in the fight for equality, and that allowing people of all races to work together would only strengthen the movement. We are all grateful for his work, which will be a powerful, lasting legacy for generations to come.