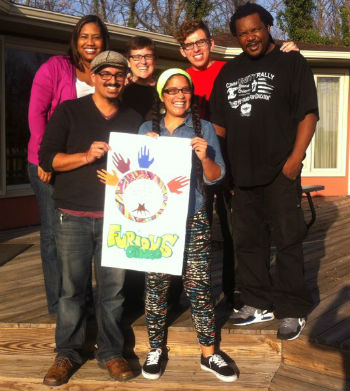 Highlander is thrilled to announce the second class of the Greensboro Justice Fund Fellows at the Highlander Center. The Greensboro Justice Fund was created with an award from a civil case, paid by the city of Greensboro, that found members of the Ku Klux Klan complicit in the murders of community organizers César Cauce, Mike Nathan, Bill Sampson, Sandi Smith and Jim Waller on November 3, 1970. At its 30th anniversary, the Fund announced that it was donating a portion of its assets to Highlander to train organizers to carry on the legacy and the work of those who died in Greensboro. This year's Greensboro Justice Fund Fellows are:
Lis-Marie Alvarado is a Central American native and fighter for social justice. She intimately connects her grassroots organizing with the political history of her country Nicaragüa. Currently, she is a community organizer with WeCount! in Homestead, FL , where she organizes the community to stand up for their rights as immigrants and demand freedom as working class people. She is also engaged with several other community-based organizations and grassroots movements locally and nationally, particularly with the Student Farmworker Alliance (SFA), which is a national network of students and youth organizing in alliance with the Coalition of Immokalee Workers (CIW) to eliminate sweatshop conditions and modern-day slavery in the fields of Florida.
Santos J. Flores has worked in social development, youth leadership, sustainable agriculture and food justice for over 8 years. He currently directs two agriculture education programs for youth and facilitates two community gardener-led projects in NC. Serving as a liaison between community organizations and community stakeholders has inspired him to look for more effective approaches to sustainable and non-hierarchical social change and given him invaluable insight from members of underserved communities on the inequalities in their local food system, economic development plans, educational institutions and health outcomes.  Santos hopes to further understand how these inequalities are linked and to develop strategies that promote equity, empowerment, good health, and spiritual healing in underserved communities.  Santos plans to use "social movement" and ecological agriculture to plan  community-level food systems that provide accessible, fresh, healthy, locally sourced "food for all." Santos holds a B.S. in Philosophy of Law from North Carolina State University.
Myeisha Hutchinson was born in Birmingham, Alabama. She earned a BA in English from Talladega College and currently works at UAB Hospital as a Patient Services Coordinator. She is on the board of directors for DISCO, a creative writing initiative in the Woodlawn community, Woodlawn Foundation, and the UAB Benevolent Fund Council. She serves as Southeast Regional Director of Community Services for Young Democrats of America, Vice-President of Minority Affairs for Alabama Young Democrats, Parliamentarian for Birmingham Young Democrats, and is President-Elect of the Oak Ridge Park Neighborhood Association. She co-leads a small group bible study at Church of the Highlands and volunteers for Better Basics, a local literacy non-profit, at Oliver Elementary School.  She is a graduate of the Alabama Organizing Project's (AOP) Grassroots Leadership Development Program and Civic Engagement Fellowship Program.
Henry Jones was born and raised in the Mississippi Delta. While attending Tennessee State University, he majored in Sociology with a minor in Africana Studies.   After graduating college, he has worked tirelessly, from union organizing at Service Employees International Union (SEIU) to community organizing across the State of Tennessee.  Henry has helped citizens in Greenhaw, TN fight rock quarries and mobilized citizens in Jackson, TN in demanding equal rehabilitation funding for impoverished and neglected communities, as well as organizing Save Our Community Day.  As an organizer at Stand for Children, he currently mobilizes parents, teachers, and community members in Memphis, TN to advocate for public education. He resides in Memphis, TN with his wife Shanika.
José Eduardo Sanchez comes from a small town in Guanajuato, Mexico. At age 9, along with his mother and younger siblings, he migrated to Houston to join his father, a construction worker. José Eduardo currently works for the Fe y Justicia Worker Center, an organization that fights alongside low-wage and immigrant workers for better working conditions in Texas. In his role as Campaign Organizer, he coordinates the Center's Down with Wage Theft Campaign, ensuring the development and implementation of collective campaign strategies, creating a broad communications, outreach, and organizing effort, and directing the research and political work to build worker power and create policy change on the local level. José Eduardo holds a B.S. in Political Science and has been organizing in Houston around queer, immigrant, and worker rights for the past 4 years.
These five organizers and activists began their work with Highlander, convening on the Highlander Hill Nov 30 – Dec 1 to get to know one another and each another's work. Activities included mapping their communities and a conference call with Greensboro Justice Fund members Roz Pelles and Lucy Lewis on the history of the of the fund.  Director Pam McMichael knew we'd brought together an effective group when she arrived at Horton House on Saturday morning, expecting to find the fellows trudging out of bed, and discovered that they'd already organized themselves into teams of lead chef, sus chef and clean up crew. The fellows will return to Highlander in the spring for another weekend of workshops, sharing, and reflection, and in the meantime, learning exchanges will continue through conference calls and other activities.