The Highlander Center is pleased to welcome four new talented, fun and hard working staff.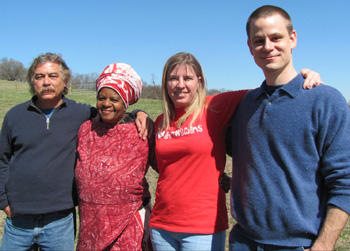 From left to right: Gustavo Teran, Yawah Awolowo, Stephanie McAninch, and Will Wilson
Gustavo Teran joins the Highlander staff as Education Coordinator. Gustavo grew up in South Texas where he worked with his family as a migrant farmworker. In his early years he became active in the Chicano and United Farmworkers' Movements. He also organized and registered voters for the Raza Unida Party, the first Mexican-American Political Party in Texas. Most recently, Gustavo has worked as an independent researcher, educator and activist with the migrant farmworker population in Vermont and co-founded the VT Migrant Farmworker Solidarity Project. He also held positions as adjunct faculty, researcher and administrator at the University of Vermont. Gustavo holds an MA in Intercultural Management and a Doctorate in Education Leadership and Policy Studies.
Yawah Awolowo is a Culinary Food Artist, who began her journey with Highlander Jan 3, 2012 as the Workshop Center Manager. Yawah was Assistant Executive Chef at the Children's Defense Fund's Haley Farm for 7 years. She is a member of National Women in Agriculture and Vice President of Cottage House, Inc., a women's organization that focuses on agriculture and youth. Yawah previously owned and operated the Organic Roots Café, Knoxville's only organic vegan/vegetarian café. As a Community Food Activist, she has traveled abroad to study Gourmet Live Foods Art and attended the World Social Forum in Porte Allegra, Brazil where she hosted a workshop on Ecology and the Cultural of Normal Birth. Yawah is Mama to 9 and has 18 grandchildren.
Stephanie McAninch is the new Operations Coordinator/Chief Financial Officer. She is a graduate of the University of Tennessee with a degree in Economics. During her time at UT, she developed a passion for third world economics, micro lending and Non-Governmental Organizations. Before coming to Highlander, she spent several years as a small business owner and worked with special needs children. Since that time, she worked as the Finance Manager for the Children's Advocacy Center of Spartanburg whose mission is to treat children of severe physical and sexual abuse. Stephanie is the proud mom of triplet sons, age 9.
Will Wilson joins Highlander as our new bookkeeper. Will became interested in social change bookkeeping through being active with groups that needed the service, and currently serves as part-time bookkeeper for other non-profit organizations. He also has for-profit bookkeeping experience. Will was radicalized by the events of September 11th and the response of the Bush Administration. Over the years he has taken action with Food Not Bombs, Earth First!, the anti-war movement, community radio, and a variety of other causes. He is passionate about environmental and economic justice. Will has a B.A. in interdisciplinary studies from U.T.