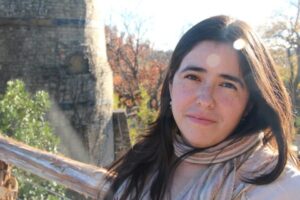 Highlander is excited to welcome youth organizer, artist, and educator Esmeralda Baltazar to our staff as a member of the Education Team! As part of that team, Esmeralda will work on a variety of issues across the region, particularly with our Seeds of Fire Youth Program and our cultural organizing program.
Esmeralda brings a wealth of experience to the Education Team. At 19, while studying art education in Chicago, she co-founded The Crib Collective, a youth-led non-profit. The organization became a center for artistic expression, cross-cultural alliances, and youth organizing that addressed a number of issues, including: gentrification, toxic waste, and the public education system. Since then, she has worked with the Rural Development Leadership Network in New York, Do Something.org, and other community based groups.
Most recently, Esmeralda worked with Fuerza Unida, a Latina-led organization in her hometown of San Antonio, TX, that empowers women workers and their families to organize for justice. It's through that work that she came to Highlander, first through the Southern Grassroots Economies Project. Highlander is an anchoring organization of SGEP, which promotes and supports the launch of sustainable cooperative economies across the South. Esmeralda's connection to Highlander deepened when, as a youth ally, she brought two young people from Fuerta Unida's youth leadership program to our Seeds of Fire Camp.
An accomplished visual artist, Esmeralda also holds an MA in Educational Leadership, Politics and Advocacy from New York University. We are thrilled that she'll be bringing her unique and powerful combination of art, education, and organizing to Highlander.