Get Involved
Highlander Center is a progressive, social change organization that raises resources in a variety of ways to fund its work.
About 20% of our total budget comes from individual donations from supporters like you. Your gifts are vital to our continued work. Please support us by making a gift today.  We at Higlander resepct donors' wishes on privacy. Thank you, we appreciate your support, past and present!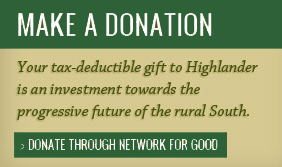 Give and Become Engaged in Highlander's work. There are many ways to engage in supporting Highlander!
Attend a workshop. Click here for upcoming opportunities check back on our website for upcoming events!
Become a sustainer! Make a monthly or quarterly contribution, an easy way to make affordable gifts that add up significantly over time,
Book Highlander Staff! Highlander conducts fee-based services including workshops, trainings, facilitation and keynotes speeches which raise funds and share Highlander methodologies beyond the region in order to broaden Highlander's reach, impact and base.
Bring your group to Highlander! Highlander's facilities are available to rent by groups and individuals whose values and interests are in alignment with Highlander. For more information, contact [email protected]
Consider Highlander for a bequest, beneficiary designation, charitable gift annuity, memorial or honorary gift, or endowment.
Host a house party or another fundraiser in your community.
Make a Financial Contribution by donating now.
Talk to your company about matching your gift.
Transfer stock to Highlander. For more information, contact Stephanie McAninch, Operations Coordinator/CFO.
Volunteer or intern for Highlander.
Write an article about Highlander for our online newsletter or paper communications. For more information, contact, Andre Canty, Development and Communications Team Member.
Primary Contact
Andre Canty, Development and Communications Team Member
(865) 933-3443 x230