Staff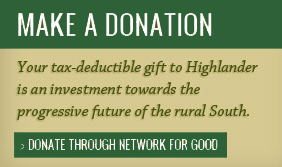 Johnny Bailey
Buildings & Grounds Manager
Johnny Bailey serves as Highlander's Buildings and Grounds Manager. He is from Tennessee and did odd jobs at Highlander in the 1980s and early 1990s. Johnny oversees the hay fields, orchards, lawns, and the maintenance of the Workshop Center, office, library, resource center, barn, and five residences on the Highlander farm.
Esmeralda Baltazar
Education Team
esme at highlandercenter.org
865-933-3443 x242
Esmeralda brings a wealth of experience to the Education Team. At 19, while studying art education in Chicago, she co-founded The Crib Collective, a youth-led non-profit. The organization became a center for artistic expression, cross-cultural alliances, and youth organizing that addressed a number of issues, including: gentrification, toxic waste, and the public education system. Since then, she has worked with the Rural Development Leadership Network in New York, Do Something.org, and other community based groups.
Most recently, Esmeralda worked with Fuerza Unida, a Latina-led organization in her hometown of San Antonio, TX, that empowers women workers and their families to organize for justice. It's through that work that she came to Highlander, first through the Southern Grassroots Economies Project. Highlander is an anchoring organization of SGEP, which promotes and supports the launch of sustainable cooperative economies across the South. Esmeralda's connection to Highlander deepened when, as a youth ally, she brought two young people from Fuerta Unida's youth leadership program to our Seeds of Fire Camp.
An accomplished visual artist, Esmeralda also holds an MA in Educational Leadership, Politics and Advocacy from New York University. We are thrilled that she'll be bringing her unique and powerful combination of art, education, and organizing to Highlander
André Canty
Development & Communications Team
andre at highlandercenter.org
865-933-3443 x230
André is a native of Knoxville and a graduate of South Doyle High School. He began his undergraduate work at Middle Tennessee State University and later transferred to the University of Tennessee and graduated with degree in English Literature. He was the instructor for the Odd Fellows Scholars Program in Knoxville, where he teaches students in grades 7-12 to illustrate Black history in the East Knoxville area through written material and digital storytelling. He serves as President the 100 Black Men of Greater Knoxville. He is a writer with publications in the Knoxville News Sentinel, Knoxville Writers' Guild, Huffington Post,  and various other sources. His interest in social justice started as a junior at Middle Tennessee State University. Canty also serves on the board for KnowHow Knoxville.
Thomas Coward
Workshop Center Chef
tcoward at highlandercenter.org
865-933-3443 x221
Thomas gained his love of food and culture through community, his single mother and many other strong women influencing him as he grew up in very diverse, low income communities in nearby Knoxville, Tennessee.  It was community that gave Thomas his sense of humanity and the need for change and justice for all.
Thomas worked as a community organizer in Connecticut, as in 2004 the state broadened its hate crime laws to include Trans folks,  in 2005 civil unions were made available to the LGBTQ community, and in 2008 complete equality under the law extended full rights to marriage. This is where Thomas was first introduced to grassroots organizing with organizations such as Love Makes a Family.
Thomas came to Highlander in 2009 as part-time Center staff.  Early on, he took an interest in the organizational work and mission, and he found ways to be involved above his normal duties. Thomas has received training in Kingian Nonviolence, receiving a certificate from Emory University and Dr. Bernard Lafayette.   Thomas has been an active participant in organizational Racial Healing and Dismantling Racism work and popular education training by participation in Highlander's Wacky Work Week.  His role has grown considerably, since Thomas is currently acting as  Workshop Center Manager.  He also provides admin support for the education team and development teams as needed. Thomas is dedicated to more sustainable practices at the Workshop Center and has been researching and implementing healthier techniques for sourcing and preparing foods. From his work with local CSA's (community sponsored agriculture) to our local grocer's co-op, the percentage of responsibly sourced food and supplies grows all the time. Thomas believes in a straightforward, unprocessed style of cooking that is both flavorful and healthy. He also has a very talented core staff that shares his commitment. That staff includes Betty Hickman, Isis Tafari , Dennie Fisher, Ritchie Carr, and Tracey Gilbert.   Together they create a very warm, hospitable and welcoming Workshop Center.
Tony Denton
Buildings & Grounds Assistant
Tony Denton serves as Highlander's Buildings & Grounds Assistant. Alongside Johnny, he tends the land and maintains Highlander's facilities. Tony has also led work camp teams at Highlander's Wacky Workshop Work Week, where participants learned real life skills from his gentle teaching style.
Betty Hickman
Workshop Center Staff
Betty Hickman (known as Ms.B) is a native of Jefferson County born at home just miles from the Highlander hill. Betty has two daughters and a son and is grandmother to three beautiful young women. She has been employed at Highlander as hospitality staff for 17 years. Betty came to Highlander in her retirement; she was an active member of AFL-CIO for seventeen years while working for Levis Strauss Co. in nearby Knoxville. When the plant closed its doors she was forced into early retirement. Her drive and incomparable work ethic would not allow her to rest; at 54 she enrolled at Tennessee College of Applied Technology and received a certificate in Office Administration. In her seventeen years of service Betty has helped to feed thousands of community activist, artist, and leaders while maintaining a warm, welcoming and hospitable WorkshopCenter. Betty has also used her skills in administration, assisting in fund raising efforts through working with the Development team on mailings. At 75 she continues to be a driving force and it would be hard to imagine a Workshop Center without her gentle care and warm smile.
Stephanie McAninch
Chief Financial Officer & Operations Coordinator
865-933-3443 x227
Stephanie at highlandercenter.org
Stephanie joined the Highlander staff in September of 2011. She is a graduate of the University of Tennessee with a degree in Economics. During her time at UT, she developed a passion for third world economics, micro lending and Non-Governmental Organizations. Before coming to Highlander, she spent several years as a small business owner and worked with special needs children. She also spent several years as cash manager for a national insurance company before starting a family. Since that time, she worked as the Finance Manager for the Children's Advocacy Center of Spartanburg whose mission is to treat children of severe physical and sexual abuse. She remains committed to volunteer work.
Pam McMichael
Director
865-933-3443 x222
Pam at highlandercenter.org
Pam first became associated with Highlander as a long-time activist and organizer in Louisville, Kentucky. For decades now, Pam's organizing and cultural work have focused on connecting people and issues across difficult divides, with particular focus on helping build a strong racially just movement. She has co-founded local, state and regional organizations with this core strategy, including Southerners on New Ground, where she served as co-director for 8 years. She was a national fellow with a Rockefeller Foundation leadership project to address the growing crisis in U.S. democracy, and her extensive nonprofit management experience includes social change and social service organizations.
Barbara Mott
Development and Communications
865-933-3443 x234
Barbara at highlandercenter.org
Barbara was born in northwest Pennsylvania, the youngest of seven children. Her father was a minister and mother taught special education. When Barbara was five, her father went into home missions, moving the family into rural Russell County, Kentucky.  After a two-year term of service, the family moved to Knoxville, Tennessee.  From age seven, Barbara grew up in urban residential South Knoxville in a low-income, working class neighborhood.  Barbara's parents, who had met at Oberlin, were staunch advocates of the Civil Rights movement, and Barbara took action in her high school by walking out of class and going to the principal's office to report a teacher who was denigrating Dr. King the day following his assassination. Barbara's parents also protested the Vietnam War; her father made his own signs directed to President Nixon and marched with Barbara and her mother in peace marches.
Barbara received her bachelor's from the University of North Carolina at Chapel Hill and her master's in Urban Multicultural Education from the University of Tennessee – Knoxville. Barbara has served on the boards of Dismas House (Knoxville), the Oak Ridge Environmental Peace Alliance, the Knoxville Women's Center, Women in Transition Partnership (Knoxville), and Community Shares of Tennessee.  Barbara attends St. Luke's Episcopal Church in east Knoxville, where her father served as priest from 1971 until the time of death in 1979 and where she served as vestry clerk for ten years. Barbara describes St. Luke's as an African American Episcopal parish that is "white friendly, gay friendly, biker friendly and bigot friendly."
Barbara attends St. Luke's with her sister Nancy Mott and her brother John Mott.  Barbara's hot-point issues include protecting women's reproductive rights, supporting immigration reform and bringing an end to mountain top removal strip mining.
Kierra Sims
Education Team
865-933-3443 x232
Kierra at highlandercenter.org
Kierra joins us after over seven years of working as an organizer, recruiter, and fundraiser in Spartanburg, South Carolina. She received her Bachelor's degree in Religion from Wofford College, where she later worked as Resident Director. While in Spartanburg, Kierra co-founded Glendale Community Action, the first neighborhood association in the rural former mill village, organizing and facilitating community meetings. Kierra first became involved through our Seeds of Fire program's annual camp, which she first attended in 2010, then returned in 2013 with youth from the Imagine That Improv Theatre Troupe, where she was Program Coordinator, working with youth to use improvisational theatre to address social issues including race and gender discrimination, drug use, domestic abuse, and more.
Coy Wakefield
Special Assistant to Director
865-933-3443 x226
Coy at highlandercenter.org
Coy views the realm of social justice through a creative lens. She believes that art and activism intersect and create an entry point for otherwise marginalized people to engage in community organizing and creating awareness. Coy uses her poetry as a platform to address socio-economic inequality, race relations and state sanctioned violence. She is a founding member of the Knoxville Chapter of Black Lives Matter and works collaboratively with various organizations and student groups in the ongoing stand against injustice on a local, national and global scale. Along with her Bachelor's in Business Administration: Finance, she brings to Highlander her experience in facilitating financial literacy workshops, hosting diverse groups of people, and a broad range of digital media, communications, writing and business skills.
Elandria Williams
Education Team
865-933-3443 x244
Elandria at highlandercenter.org
Elandria Williams is co-coordinator of the Education Team at the Highlander Research and Education Center and is on the Organizational Leadership Team. She helps coordinate the Appalachian Transition Fellowship Program and the Southern Grassroots Economies Project.  She does other work around economics including helping create an Economics and Governance Curriculum and is a lifelong youth organizer/adult ally. She was born and raised in Powell, TN but her roots and family are in Florida and the Gulf Coast. She is on the board of the US Solidarity Economy Network and the Pedagogy of the Theater of the Oppressed.
Susan Williams
Education Team
865-933-3443 x229
Susan at highlandercenter.org
Susan is coordinator of the Highlander Library/Resource Center and co-coordinator of the Education Team. Susan grew up in East Tennessee, and before coming to Highlander she worked for ten years as a community organizer for Save Our Cumberland Mountains. In 1979 she was a researcher for the Appalachian Land Ownership Study.
Susan came to Highlander in 1989 to coordinate the Environmental/Economic Program and worked with the Tennessee Industrial Renewal Network, organizing around fair trade and coordinating worker-to-worker exchanges between Mexico and Tennessee factory workers. In the 1990s, she led economy schools and coordinated Highlander's Across Races and Nations project. Susan has served on the steering committee of the Economic Literacy Action Network and the Board of United for a Fair Economy. She is currently working on a historical timeline book about Highlander, helping with efforts to build language justice in the region, encouraging economic education and organizing, supporting youth leadership and adult allies in the Seeds of Fire program and providing popular education and participatory research workshops for groups at Highlander and elsewhere.
Will Wilson
Bookkeeper
865-933-3443 x223
Will at highlandercenter.org
Will Wilson is Highlander's bookkeeper. Will became interested in social change bookkeeping through being active with groups that needed the service, and currently serves as part-time bookkeeper for other non-profit organizations. He also has for-profit bookkeeping experience. Will was radicalized by the events of September 11th and the response of the Bush Administration. Over the years he has taken action with Food Not Bombs, Earth First!, the anti-war movement, community radio, and a variety of other causes. He is passionate about environmental and economic justice.
Elizabeth Wright
Education Team
865-933-3443 x233
Elizabeth at highlandercenter.org
A Tennessee native, Elizabeth first came to Highlander as an intern. She is the founder of KnowHow, an organization which supports leadership development and community engagement among Knoxville's youth, celebrating art, culture, and media as vital tools to cultivate their agency and amplify their voices. Elizabeth holds a Master's Degree in Social Work from the University of Tennessee. Formerly, she was Executive Director of Tennesseans for Fair Taxation, and editor of the Knoxville Voice newspaper. As part of the Education Team, she works on the Appalachian Transition Fellowship and supports the work of the We Shall Overcome Fund.
CONSULTANTS
 Candie Carawan
Candie Carawan and her late husband Guy have been associated with Highlander for more than forty years. Candie came as a student participant to the first gathering of students involved in the Sit-In movement in April 1960. Guy came first as a volunteer in 1959, offering his musical skills at workshops and community events. Throughout the 60s, 70s, 80s and 90s, the Carawans organized cultural workshops at Highlander and in the field, focused on civil rights, citizenship education in the Sea Islands, and coalfield and environmental organizing in Appalachia. They documented in recordings and in books Southern and Appalachian musical traditions — especially as they related to community struggles for justice — and helped infuse a cultural component into all Highlander workshops and programs. In the 1990s Candie also served as residential education coordinator. The Carawans live next door to Highlander and currently serve as consultants to the school. Guy Carawan passed away on May 2nd, 2015. You can learn more about their cultural work by visiting their Web site.
Andi Dube
Communications Consultant
andi at highlandercenter.org
Andi is an experienced digital communications strategist based in Brooklyn, New York He has been on Highlander's team since 2010.