Staff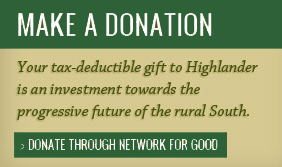 Johnny Bailey
Buildings & Grounds Manager
865-603-3443
Johnny Bailey serves as Highlander's Buildings and Grounds Manager. He is from Tennessee and did odd jobs at Highlander in the 1980s and early 1990s. Johnny oversees the hay fields, orchards, lawns, and the maintenance of the Workshop Center, office, library, resource center, barn, and five residences on the Highlander farm.
André Canty
Development & Communications Team
andre at highlandercenter.org
865-933-3443 x230
André is a native of Knoxville and a graduate of South Doyle High School. He began his undergraduate work at Middle Tennessee State University and later transferred to the University of Tennessee. His degree is in English Literature. He is also the instructor for the Odd Fellows Scholars Program in Knoxville, where he teaches students in grades 7-12 to illustrate Black history in the East Knoxville area through written material and digital storytelling. He was the former Assistant to Director at the Beck Cultural Exchange Center and serves as President the 100 Black Men of Greater Knoxville and as Team Leader of Mentors at TN Achieves.  He is a writer with publications in the Knoxville News Sentinel, Knoxville Writers' Guild, and various other sources. His interest in social justice started as a junior at Middle Tennessee State University.
Tony Denton
Buildings & Grounds Assistant
Tony Denton serves as Highlander's Buildings & Grounds Assistant. Alongside Johnny, he tends the land and maintains Highlander's facilities. Tony has also led work camp teams at Highlander's Wacky Workshop Work Week, where participants learned real life skills from his gentle teaching style.
Matt Griffin
Special Assistant to the Director
(865) 228-7900
Matt at highlandercenter.org
Originally from Greensboro, NC, Matt comes to Highlander after several years of teaching English, literature, and creative writing, first at the University of Iowa, where he attended the highly-acclaimed Iowa Writers' Workshop, then at Walters State Community College in Morristown. He first became interested in activism and organizing during his undergraduate studies at Wake Forest University, in a class on religion and civic engagement, during which he interned with a community group working to begin the process of truly integrating the public school system there.
Stephanie McAninch
Chief Financial Officer & Operations Coordinator
865-933-3443 x227
Stephanie at highlandercenter.org
Stephanie joined the Highlander staff in September of 2011. She is a graduate of the University of Tennessee with a degree in Economics. During her time at UT, she developed a passion for third world economics, micro lending and Non-Governmental Organizations. Before coming to Highlander, she spent several years as a small business owner and worked with special needs children. She also spent several years as cash manager for a national insurance company before starting a family. Since that time, she worked as the Finance Manager for the Children's Advocacy Center of Spartanburg whose mission is to treat children of severe physical and sexual abuse. She remains committed to volunteer work.
Pam McMichael
Director
865-933-3443 x222
Pam at highlandercenter.org
Pam first became associated with Highlander as a long-time activist and organizer in Louisville, Kentucky. For decades now, Pam's organizing and cultural work have focused on connecting people and issues across difficult divides, with particular focus on helping build a strong racially just movement. She has co-founded local, state and regional organizations with this core strategy, including Southerners on New Ground, where she served as co-director for 8 years. She was a national fellow with a Rockefeller Foundation leadership project to address the growing crisis in U.S. democracy, and her extensive nonprofit management experience includes social change and social service organizations.
Barbara Mott
Development and Communications
865-933-3443 x234
Barbara at highlandercenter.org
Barbara was born in northwest Pennsylvania, the youngest of seven children. Her father was a minister and mother taught special education. When Barbara was five, her father went into home missions, moving the family into rural Russell County, Kentucky.  After a two-year term of service, the family moved to Knoxville, Tennessee.  From age seven, Barbara grew up in urban residential South Knoxville in a low-income, working class neighborhood.  Barbara's parents, who had met at Oberlin, were staunch advocates of the Civil Rights movement, and Barbara took action in her high school by walking out of class and going to the principal's office to report a teacher who was denigrating Dr. King the day following his assassination. Barbara's parents also protested the Vietnam War; her father made his own signs directed to President Nixon and marched with Barbara and her mother in peace marches.
Barbara received her bachelor's from the University of North Carolina at Chapel Hill and her master's in Urban Multicultural Education from the University of Tennessee – Knoxville. Barbara has served on the boards of Dismas House (Knoxville), the Oak Ridge Environmental Peace Alliance, the Knoxville Women's Center, Women in Transition Partnership (Knoxville), and Community Shares of Tennessee.  Barbara attends St. Luke's Episcopal Church in east Knoxville, where her father served as priest from 1971 until the time of death in 1979 and where she served as vestry clerk for ten years. Barbara describes St. Luke's as an African American Episcopal parish that is "white friendly, gay friendly, biker friendly and bigot friendly."
Barbara attends St. Luke's with her sister Nancy Mott and her brother John Mott.  Barbara's hot-point issues include protecting women's reproductive rights, supporting immigration reform and bringing an end to mountain top removal strip mining.
Tufara Waller Muhammad
Education Team
865-335-2443
Tufara at highlandercenter.org
Tufara is a cultural organizer and strategist. She has coordinated Cultural Programs at the Highlander since 2004. Tufara has worked regionally, nationally and internationally. She worked with Arkansas Equality Network on their "Safe Schools Campaign,"  ACORN (Arkansas Community Organization for Reform Now) on housing and Community Reinvestment Act issues, the Arkansas Women's Project with the "Hate Free Arkansas Campaign and lead the African American Women's Institute.
Tufara was Project Director for Safe Haven Ministries, a youth and young adult program in Arkansas. She is a CDC certified HIV/AIDS counselor who has done youth trainings throughout the world. She has performed with the Essie Neal Blues Band, Dr. Bernice J. Reagon, The Carawans, Elise Witt, Paula Larke, Carpetbag Theatre, Fruit of Labor Singing Ensemble, Chris Aka (Zambia), Devon Evans (Drummer, Wailers), and others throughout the world.
She is a member of the Executive Committee of Alternate ROOTS, Datule' Artist Collective, on the Leadership Team of the Arkansas Women's Project; the International Advisor for the New Season's Youth Program which provides US educational opportunities for African and Caribbean students; and Creative Solutions Zanzibar, a program empowering women and children toward economic independence through education, micro-loans, and training in art making/merchandising.
Melody Reeves
Capital Campaign Coordinator
865-360-8224
Melody at highlandercenter.org
Melody has 30 years' experience working with community-based, social and cultural justice organizations, assisting organizations in increasing their strategic, programmatic and outreach capacities. She first came to Highlander while working as a community organizer with SOCM in 1979, at a time when Highlander was deeply involved in the movement fighting to end devastating practices of strip mining and the destructive effects of the coal-dominated economy on local communities.
Joe Tolbert-Zilphia Horton Project/App Fellows
JTolbert at highlandercenter.org
Joe Tolbert was first introduced to Highlander and its work as a high school participant in the Seeds of Fire Program, and since then he has completed an internship and acted as a consultant to the Zilphia Horton Cultural Organizing Institute. As a consultant, he handled logistics and helped develop and facilitate the curriculum for the institute.  Currently, Joe is on full time status with Highlander working with the current Zilphia Horton programming and the new App Fellows program.
Elandria Williams
Education Team
865-933-3443 ext 244
Elandria at highlandercenter.org
Elandria coordinates Highlander's work with youth and intergenerational organizing. Before coming to Highlander she was involved in popular education and organizing around anti-oppression, anti-racism, nonviolence, education reform, the prison military industrial complex, and intergenerational education and organizing with many different organizations, including the Fellowship of Reconciliation, the Unitarian Universalist Association, and the Unitarian Universalist Service Committee. She is now on the Coordinating Committee of the US Solidarity Economy Network and on the National Council of Churches Ecumenical Young Adult Ministries Team.
Susan Williams
Education Team
865-933-3443 x229
Susan at highlandercenter.org
Susan is coordinator of the Highlander Library/Resource Center. Susan grew up in East Tennessee, and before coming to Highlander she worked for ten years as a community organizer for Save Our Cumberland Mountains. In 1979 she was a researcher for the Appalachian Land Ownership Study.
Susan came to Highlander in 1989 to coordinate the Environmental/Economic Program and worked with the Tennessee Industrial Renewal Network, organizing around fair trade and coordinating worker-to-worker exchanges between Mexico and Tennessee factory workers. In the 1990s, she led economy schools and coordinated Highlander's Across Races and Nations project. Susan has served on the steering committee of the Economic Literacy Action Network and the Board of United for a Fair Economy. She is currently working on a historical timeline book about Highlander, helping with efforts to build language justice in the region, encouraging economic education and organizing, supporting youth leadership and adult allies in the Seeds of Fire program and providing popular education and participatory research workshops for groups at Highlander and elsewhere.
Will Wilson
Bookkeeper
865-933-3443 x223
Will at highlandercenter.org
Will Wilson is Highlander's bookkeeper. Will became interested in social change bookkeeping through being active with groups that needed the service, and currently serves as part-time bookkeeper for other non-profit organizations. He also has for-profit bookkeeping experience. Will was radicalized by the events of September 11th and the response of the Bush Administration. Over the years he has taken action with Food Not Bombs, Earth First!, the anti-war movement, community radio, and a variety of other causes. He is passionate about environmental and economic justice.
CONSULTANTS
Yawah Awolowo
Workshop Center Manager
865-933-3443 x225
Yawah at highlandercenter.org
Yawah Awolowo  is a culinary food artist who began her journey with Highlander in January of 2012 as the Workshop Center Manager. Yawah has been a vegetarian/vegan live-foods chef for 30 years. Before coming to Highlander, she was Assistant Executive Chef at Children's Defense Fund, where she created healthy meals for groups attending CDF functions on the former Alex Haley Farm, and was the owner/operator of Organic Roots Café, Knoxville's only vegan/vegetarian cafe. Yawah is a member of National Women in Agriculture and Vice President of Cottage House Inc., a women's organization that focuses on agriculture and youth. As a community food activist, she has traveled abroad to study gourmet live foods in Ochio Rios, Jamaica, and she attended The World Social Forum in Porte Allegra, Brazil, where she hosted a workshop on Ecology and Culture of Normal Birth. Yawah is Mama of 9 and has 18 grandchildren.
Guy and Candie Carawan
Guy and Candie Carawan have been associated with Highlander for more than forty years. Guy came first as a volunteer in 1959, offering his musical skills at workshops and community events. Candie came as a student participant to the first gathering of students involved in the Sit-In movement in April 1960. Throughout the 60s, 70s, 80s and 90s, the Carawans organized cultural workshops at Highlander and in the field, focused on civil rights, citizenship education in the Sea Islands, and coalfield and environmental organizing in Appalachia. They documented in recordings and in books Southern and Appalachian musical traditions — especially as they related to community struggles for justice — and helped infuse a cultural component into all Highlander workshops and programs. In the 1990s Candie also served as residential education coordinator. The Carawans live next door to Highlander and currently serve as consultants to the school. You can learn more about their cultural work by visiting their Web site.
Peggy Matthews
Fundraising Consultant
(276) 467-1706
pmathews.consulting at gmail.com
Peggy has over 35 years experience working with environmental and social justice organizations, primarily in the southeastern United States.  Over those years Peggy worked as an action researcher for Highlander Center, a community organizer and then grassroots fund raiser for Save Our Cumberland Mountains, an environmental justice organization fighting mountaintop removal in the coalfield communities of east Tennessee, and was the founding director of Community Shares, a statewide federated fund for social, environmental and economic justice organizations raising funds together through employee giving campaigns in the workplace.
Since 1983 Peggy has been a leader in creating and building community-based philanthropy. She was instrumental in the start up and was a founding board member for three public foundations in the Southeast: Appalachian Community Fund, Southern Partners Fund, and The Fund for Campbell County.  For the past fifteen years, Peggy has worked as a consultant, coach and trainer in the area of individual fund raising and organization management.  Peggy received her Bachelor of Science degree in community organizing and community development from the University of California at Davis.  Peggy and her husband Jim Thompson live in southwestern Virginia with their two dogs.
Andi Dube
Communications Consultant
andi at highlandercenter.org
Andi is an experienced digital communications strategist based in Brooklyn, New York He has been on Highlander's team since 2010.