Generations to Come Capital Campaign
To support the future of Highlander's critical work we have launched the $3.2 Million Generations to Come Capital Campaign.
Generations to Come Capital Campaign Progress Report-June. 2014

HREC Comprehensive Brief 

As the economic and environmental crises converge and the gulf widens between rich and poor, we know that social justice must be the framework for building sustainable economies and restoring our planet. Highlander provides key resources, training and a premier learning environment for moving this work forward.
The Generations to Come Capital Campaign will enable us to house more people, hold more workshops, and offer more residencies, while keeping our workshop size small.
Our campaign will: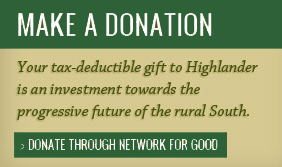 Make our lodgings fully accessible, energy efficient and comfortable for 40+ workshop participants and guests, using a combination of new construction and renovation.
Establish the Septima Clark Learning Center next to the Workshop Center.
Complete the purchase of the Bays Mountain house and land for extended-length residencies, walking trails and expanded land-based programs.
Create a $500,000 maintenance endowment and make all our facilities energy efficient and more durable for the long haul.
Click on the links below for more information on how to support Generations to Come!
Highlander Capital Campaign Brochure
Energy & Durability Renovation Maintenance Endowment
I'd like to donate now
Capital Campaign Progress Reports
Click here for the latest progress report on the Generations to Come Capital Campaign.