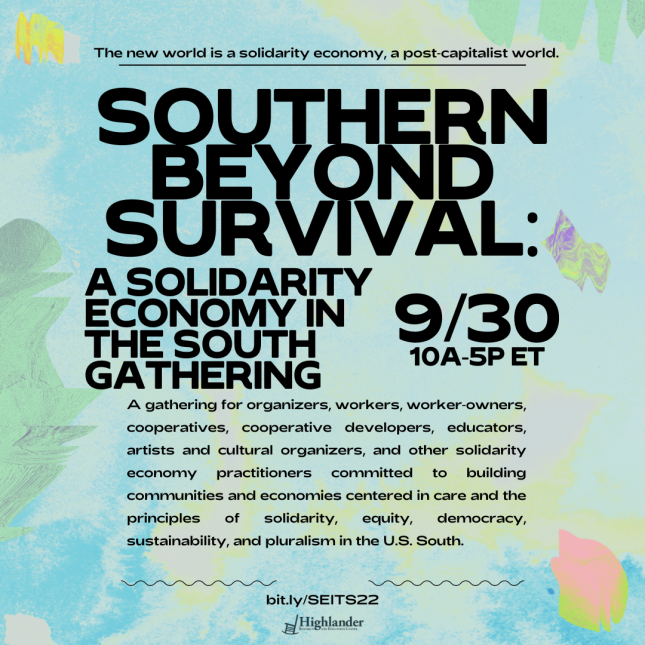 "Southern Beyond Survival: A Solidarity Economy in the South Gathering"
at Highlander's 90th Homecoming, September 30 – October 2, 2022
GATHERING DESCRIPTION AND DETAILS FOR REGISTERING
PLEASE READ ALL BEFORE REGISTERING. THANK YOU!
Calling all Solidarity Economy practitioners in the South! 
Join us for "Southern Beyond Survival: A Solidarity Economy in the South Gathering", a strategic convening of individuals and organizations working to build grassroots solidarity economies, at Highlander's 90th Homecoming, September 30 – October 2, 2022. 
This gathering will take place on September 30th, 10am-5pm ET, at the Highlander Center at 1959 Highlander Way, New Market, TN 37820.
ABOUT THE GATHERING
Solidarity Economy (SE), according to the US Solidarity Economy Network, is an alternative framework for economic development and systemic transformation grounded in principles of solidarity, cooperation, participatory democracy, equity, sustainability, and pluralism. We are imagining and working to build an economy that puts people and the planet before private profits and domination. 
Folks engaged in this work have identified a need for a strong regional network to sustain solidarity economies in the South, especially to help SE thrive in poor and low-wealth communities, communities of color, and rural communities. This gathering will offer opportunities for us to exchange real stories about powerful solidarity economy solutions and lessons learned that we can take back and share with our communities. By gathering with groups from across the region, we will better understand how our efforts fit into a comprehensive movement for a totally reimagined economy and society. Together we will celebrate our successes, share our lessons, feed our hope, strengthen our network, and build power together as a region.
FEES
Friday's Solidarity Economy in the South Gathering is free and includes Breakfast and Lunch. 
If you are joining us for the rest of 90th Homecoming activities, then we invite you to pay a fee as you are able. If you/your organization has limited funds then you can contact brittany@highlandercenter.org for a discount / comp code as needed. If you'd like to pay for a group, then please contact james@highlandercenter.org. Homecoming registration fees include meals Friday night through Sunday lunch.
Check out Homecoming FAQs for more info. 
REGISTER AND ATTEND IN GROUPS:
Our intention is to hold a gathering among grassroots organizations, cooperatives, and other solidarity economy collectives. We believe this work is strongest when rooted in communities and organizations. That's why we are asking groups to send 2 or 3 people as delegates to this gathering. We also believe learning happens best when you have one or two people from your organization with whom you can process, debrief, and take action in your own communities after the gathering. Individuals unaffiliated with local collectives, organizations, cooperatives, or other groups are encouraged to put energy into joining an organization, organizing your friends and neighbors, and cooperatively working toward solutions. Please do not register as a lone, solo individual. Additionally, please do not register to bring more than 3 people from your group unless you have prior permission.
COVID SAFETY & PROTOCOLS:
Highlander's policy for in-person gatherings requires that all attendees provide proof of vaccination and boosters and a negative test in advance of traveling to the site. You will submit documentation through CrowdPass. In addition, folks onsite will be asked to wear a N95/KN95 mask and, when possible, maintain 6′ of physical distance. If in the two weeks before Homecoming you contract COVID, feel ill in any way, or come into contact with someone who is sick, please stay home. Let us know, in case someone else can take your spot (see Limited Capacity above). While you are on the hill, even if it's hot, we are all going to take care of each other and keep us safe by wearing our masks outside and spreading out. If you need to apply for a COVID-19 vaccine exemption to Highlander COVID-19 Policy in order to attend in person, please go ahead and follow these instructions. We keep us safe.
LIMITED CAPACITY:
This event is limited to 100 people. After 100 people register, this registration form will add you to the waitlist. We encourage groups and organizations to select two or three delegates to attend the gathering to offer space for multiple groups. We also encourage you to apply only if you are planning to attend. We further ask you to let us know if you can no longer make it by emailing DAVID@HIGHLANDERCENTER.ORG with the subject line "Canceling my Sept 30 SES Gathering Registration" with the names of each person who are no longer attending in the email body.
TRAVEL SCHOLARSHIPS
Highlander's Economics and Governance team has some limited funding available to offset the cost of travel expenses such as gas, rental car, snacks and meals while traveling, and lodging near Highlander. Each organization can apply for a travel scholarship using this form. Because we have a limited pool of funds, we encourage you to pay for the expenses you can afford and only request the level of support your group needs to participate in the gathering. That said, do not be shy about requesting the support you need to remove any barriers for you and your awesome solidarity economy comrades. Thanks for helping us steward our movement's resources wisely.
TO REGISTER
Register here: https://highlander.swoogo.com/90th/  Enter the code "Friday" when prompted to add a code (step 5 under "In Person"), so that you can register for the gathering. You will be able to register multiple people from your organization at one time (step 10 "Additional People"). Once you've completed your Homecoming registration form, please complete this short survey for your group to tell us more about your organizing and what you are hoping to get from this gathering. 
Detailed instructions for registering on swoogo.com if you've already registered for Homecoming:
2. Click Register for Highlander's 90th Homecoming
3. Click Already Registered? View or Modify your existing registration
4. Sign in with your email and password. 
5. If you've forgotten your email, reset it.
6. Once logged in, click on #5 in-person on the top of the screen.
7. Add code "Friday"
8. Click the drop down menu to confirm Friday attendance. 
9. Click continue at the bottom of your screen to continue or, if no other changes, click #10 additional people on top of your screen
10. If you're not adding other people, click continue on the bottom of your screen.
11. You should now see the "
Thanks for registering" page
SOLIDARITY IN THE SOUTH NETWORK
Check out and consider joining the Solidarity Economy in the South
online network