Posts under News Category
August 2, 1947 – February 25, 2014 "I only came to the movement because of King and he was killed. I only stayed in the movement because of Malcolm and he was killed. Then I became a leader"- Chokwe Lumumba….
 Pete Seeger: May 3, 1919 – January 27, 2014 Today we celebrate the life and times of the Legendary Pete Seeger. He used his talents for the greater good of us all. Folk music was Pete's instrument to bring progressive…
Highlander Center and Rural Support Partners are looking for 15 emerging leaders in Central Appalachia dedicated to creating a just and equitable region to become part of the Appalachian Transition Fellowship. The Fellowship is a year-long, full-time, paid program…
The Highlander Research and Education Center is seeking nominations to serve on its board of directors beginning in the spring of 2014. Directors are elected by the board to serve a term of three years and may serve an additional…
Click here for more information for Wacky Workshop Work Week. Come to the mountains of east Tennessee and spend one of the best starts to your summer ever with Highlander staff and people from around the country at W-7.6, our…
Highlander Research and Education Center & Rural Support Partners are excited to launch the Appalachian Transition Fellowship Join our webinar on Thursday, January 16, 2014 at 1 – 2 EST to learn how your organization can help to elevate emerging…
Overview of Position and Highlander's Program Work This person will be a member of Highlander's Education Team. This team works together to plan, carry out and evaluate the educational work of the Highlander Center. Fundamentally, Highlander is an intersectional resource…
Dear friend, Recently we came across the following in a 1991 New York Times editorial by Peter Applebome about the passing of Highlander founder Myles Horton: "[Myles Horton] left behind an institution that is not only alive but also remains…
Check out our Executive Summary from the good people at Highlander.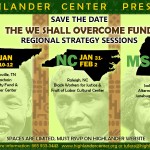 Click here to participate in the WSOC Strategy Sessions for 2014 in Raleigh, NC(Jan. 31-Feb.2, 2014), Jackson, MS(Feb. 14-16, 2014), and Knoxville, TN (Jan. 10-12, 2014). Registrations for Jackson, MS are open. The Jackson Unity Mixer (Feb. 15 at 7PM…