Archival Research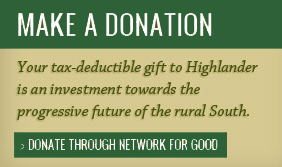 HOW TO CONDUCT ARCHIVAL RESEARCH: A GUIDE FOR RESEARCHERS
Archives house primary source documents—materials like letters, memos, meeting minutes, speeches, and photographs, that contain firsthand information about a topic or event. Primary source documents are often unique or rare, and they can enrich and add depth to your research.
This guide is designed for people who have never done archival research before, as well as for experienced researchers who want to learn more about the Highlander Center's holdings.
About Our Collection:
The Highlander Research and Education Center maintains a core archival collection documenting the Center's work since its founding as the Highlander Folk School in 1932. Our archives are housed in the Harry Lasker Memorial Library and Resource Center. The collection includes printed materials and primary source materials on historical social movements in the South, with a focus on the Labor Movement, the Civil Rights Movement, and the Appalachian Movement.
Other materials related to the Highlander Center can be found at the Wisconsin Historical Society and at the Tennessee State Library and Archives. See the Resources list at the end of this document for more information about those collections.
Accessing archival materials involves some advance preparation. A few basic skills and some preliminary work will help you find the materials you need.
Before You Arrive:
Determine your topic of interest. Keywords, names, and dates will all be useful in helping to find relevant materials.
Call or email us to make an appointment before you arrive, since Highlander library staff members are not always around during regular business hours. This also will allow us to ask you questions about your research topic so that we can help you find the materials that will be most useful to you.
You may want to check the Highlander Center website for directions.
Things you may want to bring: notebook, pencils, change for making photocopies, a digital camera to take photos of materials, and a laptop for taking notes. The Highlander library has wireless internet access.
Before your trip to the Highlander archives, you should spend a little time perusing our online finding aids. Searching our holdings before you arrive will help you use your time here productively. More on finding aids, and how to use them, below.
Finding the Materials You Need
Doing archival research requires time and patience. However, we have research tools that will help you locate materials.
Archival materials are generally arranged by provenance—that is, they are grouped according to who collected or compiled the materials. Each collection is divided into boxes, which contain folders. Each folder has a title and date that tells you what kinds of materials you can find inside.
Each processed collection has a descriptive document called a finding aid. The finding aid describes the collection, including its context, its creator, and its original purpose. The finding aid is divided into sections describing the collection's creator, the formats of materials it contains, the time period that it covers, and the subjects that it covers. It also contains a list of the folder titles that can be found in each box.
Finding aids generally do not include links to digital materials; instead, they describe the materials contained in our physical collections so that you know what materials will be useful to you.
The Highlander archives also has some unprocessed collections, which means that the materials have not yet been moved into archival-quality boxes and folders, and we do not have detailed knowledge of what the collection contains. Most unprocessed collections are still open for research, but navigating them will require a lot of time and patience. Ask the librarian about access to unprocessed collections.
How to Access Finding Aids:
The Highlander Center's finding aids can be found online. Click here or direct your web browser to http://www.highlanderarchives.org/archon. From this website, you can search finding aids using keywords, or you can browse our collections.
To search for a specific name or keyword, enter your term in the search box in the upper left corner of the screen, and then click the word "Search" to the right of the box. If we have materials related to your search term, a list of search results will appear. Click on the words Records and Manuscripts, which will display a list of collections related to your topic.
If you click on the collection title, it will bring you to the full finding aid for the collection. Alternately, if you click on the words Results Found in Box List below the collection title in the search results, it will display the series number, box number, and folder number/title of folders that contain information related to your search. Note the collection name and number, the box number, and the folder number of any materials that you would like to view.
If you simply want to browse collections, instead of searching for a specific term, click on the "Collections" tab at the top of the page. This brings you to a Browse page, where you can look at collections with titles beginning with a certain letter, or you can click View All to see a list of all the collections in the Highlander Archives. Again, clicking on a collection title will bring you to the full finding aid for the collection.
How to Navigate Finding Aids:
Finding aids contain numerous sections, each with information that can help you in your research or help you determine if the collection has material that will be useful to you.
On the front page of the finding aid, you will see the collection title and inclusive dates at the top of the screen.
Below the title, on the left, are sections describing the collection. The Extent of the collection is how much horizontal shelf space it occupies; for instance, a collection with an extent of 2.2 linear feet occupies 2.2 horizontal feet of shelf space. This gives you an idea of how much material is in the collection. Below the extent are a series of items, including Arrangement, Abstract, Creators, Administrative/Biographical History, Subjects, Languages of Materials, and Administrative Information. Just click on any of these section titles to expand and view that section of the finding aid.
The Arrangement describes the series and sub-series, if any, within the collection, and also notes how many boxes of material it contains. The Abstract offers a brief overview of the collection. The Creators are the person or people who wrote, created, collected, or compiled the materials in the collection. The Administrative/Biographical History includes background information about the people, topics, and events covered by the collection. For instance, if the collection consists of a staff member's personal papers, the Administrative/Biographical History will offer biographical information about that person's life and interests. Subjects includes Library of Congress Subject Headings, like those used in library catalogs. Languages of the Materials notes all languages used within the collection. Administrative Information notes any restrictions on the collection's use, and also includes the preferred citation for materials in the collection.
Below the title, on the right, is a Scope and Contents note, which describes the materials, the context in which they were created or used, and the formats of materials (news clippings, photographs, film, letters, etc.) included within. Below the Scope and Contents note is a link to a Detailed Description of the collection. If you click on Detailed Description, you will see a full list of boxes and folder titles. You can use this list to decide which boxes and/or folders you would like to view.
Requesting Materials
Write down the collection name and number, the box number, and (if applicable) the folder number for any materials that you would like to view. The librarian will retrieve boxes for you from the archives.
Inside the boxes are folders with folder titles and dates. Each folder is numbered.
You can sit at a desk or table while using materials. When you are done with a box, the librarian will re-shelve it for you.
Handling
Please do not use pens near any archival materials! We have pencils that you can use if you need one. You are welcome to bring a notebook, a laptop, or a digital camera for photographing materials.
Also, please do not have food or drink anywhere near archival materials, and make sure that your hands are clean. If you are handling photographs, we will provide you with gloves to ensure that the oils from your hands to not get onto the surface of the photograph.
Know that archival materials may be dusty or otherwise irritating to those with sensitive lungs.
Please be gentle with our archival materials. Keep documents flat on the table. Remove a single folder from the box at a time, and return folders to the appropriate spot within the box. (Each folder is numbered.) Keep materials within the folders in the order in which they are filed.
Reproduction
Most materials in the Highlander archives can be photographed or photocopied for personal reference or research purposes. Please keep in mind that U.S. copyright law does extend to materials housed in libraries and archives.
Some large or fragile materials cannot be photocopied; movement or the light from photocopying can damage very fragile items. Bound manuscripts, old or deteriorated newsprint, fragile or deteriorating photographs, and some other items should not be photocopied. Check with a librarian if you have questions about photocopying an item.
After You Leave
If you are going to be using our materials in an article or an academic paper, you will need to cite them correctly. Finding aids for each collection include citation information. The general format for citations of Highlander archival material is as follows:
[Identification of Item]. [Collection number]: [Collection title, collection dates]. Highlander Research and Education Center, New Market, Tenn.
If you are going to publish materials held in the Highlander archives or library, you may need to request permission. Contact a librarian for information about permissions and usage rights.
Resources
While doing archival research and while using finding aids, you may come across unfamiliar terms, or you may be confused about where to look within a finding aid to find the information that you need. Follow the link to an excellent list of useful terms compiled by the Manuscripts Department in the Wilson Library at the University of North Carolina.
Many materials related to the Highlander Center's work, its history, and the activities of individual staff members are housed in other libraries and archives. Contact information for repositories with significant materials related to Highlander is listed below.
Wisconsin Historical Society
816 State St.
Madison, WI 53706
(608) 264-6400
The majority of the Highlander archives from 1917 through 1987 — as well as the papers of Myles Horton, Frank Adams, Septima Clark, and others associated with Highlander — are housed at the Wisconsin Historical Society. Microfilm of these archives is available through interlibrary loan. The Society will also make paper copies, charging only for copying and shipping.
The titles of specific archive collections may be searched through the Society's online catalog, ArCat. To use ArCat, go to http://arcat.library.wisc.edu/, click on "Guided Search," enter "Highlander" into the first "Search For" box, and then click the "Search" button. The program will then display a list of all the archives that contain references to Highlander, including the Highlander archives themselves.
A portion of the Society's collection of Highlander photographs is available online. Click here to view these photographs.
Tennessee State Library and Archives
403 Seventh Avenue North
Nashville, TN 37243-0312
(615) 741-2764
A portion of the earlier Highlander material is housed in the Tennessee State Library and Archives in Nashville. To view the online list of the Archives' holdings, go to http://www.tennessee.gov/tsla/history/manuscripts/index.htm and click on "Guide to Manuscript Materials."
The Archives' "Manuscript Collection" includes Highlander material from 1932 to 1969 ((Mf#990) as well as a "Highlander Folk School Audio Collection." The "Microform Collection" includes the Highlander FBI Files (Mf#1407). For information about how to access this material, please contact the Archives at the address and phone number above.
W.L. Eury Appalachian Collection
Carol G. Belk Library
Appalachian State University
Boone, NC 28608
(828) 262-4041
(828) 262-2553
The W.L. Eury Appalachian Collection houses an extensive collection of material on Appalachia, including the papers of Helen Lewis, a long-time Highlander associate, and the records of the Appalachian land ownership study that Highlander helped to coordinate in the late 1970s. Appalachian State also has a useful list of other Appalachian Studies links.