Job Announcements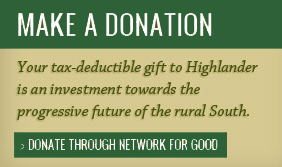 Organization Summary
Founded in 1932, the Highlander Research and Education Center is a popular education center that works with grassroots groups in Appalachia and the South to promote social, racial and economic justice. Highlander is located 25 miles northeast of Knoxville, TN on a 186 acre farm. Highlander's program work takes place at Highlander and in local communities across the South, as well as the country and sometimes world. Highlander's long and proud history includes cutting edge work with labor education and organizing, the Civil Rights Movement, environmental justice in Appalachia, and more recently, on the changing demographics of our region. Highlander is world-renowned as a beacon for progressive organizing and widely acclaimed as a leadership development center for grassroots activists across race, culture and generations.
There are no job announcements at this time. Check back for updates.