Job Announcements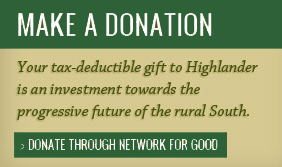 Organization Summary
Founded in 1932, the Highlander Research and Education Center is a popular education center that works with grassroots groups in Appalachia and the South to promote social, racial and economic justice. Highlander is located 25 miles northeast of Knoxville, TN on a 186 acre farm. Highlander's program work takes place at Highlander and in local communities across the South, as well as the country and sometimes world. Highlander's long and proud history includes cutting edge work with labor education and organizing, the Civil Rights Movement, environmental justice in Appalachia, and more recently, on the changing demographics of our region. Highlander is world-renowned as a beacon for progressive organizing and widely acclaimed as a leadership development center for grassroots activists across race, culture and generations.
Position Available
Education Team Administrative and Communications Support
Overview of position: 
This staff position will provide administrative support to Highlander's Education Team, which works together to plan, carry out and evaluate the movement and capacity building educational work of the Highlander Center. This is a full time position with some dedicated percentage support to particular education programs. The work of the team takes place at various times and also on weekends and this position requires flexibility and adaptability.
Primary Responsibilities:
This position will provide administrative to he Education team and organization in general to carry out programs, including:
Maintaining consistent correspondence with program participants, staff and board
Scheduling meetings and taking notes
Booking travel for Education Team staff and program participants
Ordering Supplies for entire organization
Tracking staff calendars
Assist with foundation fundraising and reporting
Assisting in development, editing, printing, and copying materials for workshops
Assisting in the application and interview process for fellowship program, interns, contract staff, etc.
Maintaining database
Supporting the We Shall Overcome Fund and Seeds of Fire Fund administratively
Helpful skills and experience for this position:
Excellent communication skills, written and verbal
Able to establish rapport with activists and community members in diverse ethnic, racial, social and economic groups
Commitment to and analysis of racial, gender, economic, environmental and social justice and civil and human rights
Experience with social media
Familiarity with Microsoft Office, including Word and Excel
Computer savvy and willingness to explore and utilize new technologies and software
Experience in layout and design
Detail oriented, big picture understanding
Solid administrative skills
Time management ability and strong organizational skills
Problem-solving, initiative, not afraid to ask questions
Writing skills
Bi-lingual (English-Spanish languages) helpful
Willingness to work long and irregular hours at times
Willingness to travel (as needed)
Location:  Highlander is a residential workshop center located on 186 acres in east Tennessee northeast of Knoxville in the foothills of the Great Smoky Mountains. Some staff live on the Highlander grounds while others live in the surrounding areas, including Knoxville.   This position will be based at the Highlander Center.
Expectations of all staff positions at Highlander:
Passionate about Highlander's purpose and able to communicate our  program work effectively.
Committed to racial, gender, economic, environmental and social justice.
Self-starter as well as a team player.
Organized and ability to balance multiple responsibilities with grace.
Be an active participant in a democratically participatory organization.
Keep Highlander's purpose and the people with whom we work central.
Sense of humor welcome and most helpful.
High degree of honesty and integrity.
Salary and Benefits:
Highlander has an existing pay scale and excellent benefits package.
Start Date:
This position starts as soon as possible, with plans to fill the position by April.  Highlander will start reviewing applications immediately, application deadline is February 27th.   The position is open until filled.
To Apply: 
Send letter of interest, resume, one page writing sample and 3 references to:
Search Committee: Education Team Admin Support
Highlander Center
1959 Highlander Way
New Market, TN, 37820
Email applications are accepted at matt@highlandercenter.org or by fax at 865-933-3424.   For more information, you can email Susan Williams at swilliams@highlandercenter.org.   Highlander is a Equal Opportunity Employer and People of Color, Women, LGBTQQ, people with disabilities and other marginalized/intersectional identities are encouraged to apply.