Job Announcements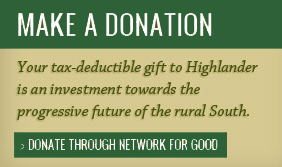 Organization Summary
Founded in 1932, the Highlander Research and Education Center is a popular education center that works with grassroots groups in Appalachia and the South to promote social, racial and economic justice. Highlander is located 25 miles northeast of Knoxville, TN on a 186 acre farm. Highlander's program work takes place at Highlander and in local communities across the South, as well as the country and sometimes world. Highlander's long and proud history includes cutting edge work with labor education and organizing, the Civil Rights Movement, environmental justice in Appalachia, and more recently, on the changing demographics of our region. Highlander is world-renowned as a beacon for progressive organizing and widely acclaimed as a leadership development center for grassroots activists across race, culture and generations.
 NEW JOB ANNOUCEMENT!!!
Workshop Center Job Openings at the Highlander Research and Education Center
Positions are part-time and scheduled as needed
Overview of Position
This position is hourly and scheduled on an as-needed basis.
This person will be a member of Highlander's Workshop Center Team.  This team works together to carry out the responsibilities of Highlander's Workshop Center and other facilities at Highlander.
Duties Include:
Share in cooking and cleaning responsibilities to provide safe, efficient, clean and welcoming spaces at Highlander.
Help to plan and prepare workshop center meals, in order to serve a wide variety of healthful menus utilizing a maximum of fresh produce and  a minimum of processed food.
Greet workshop participants and help them have the info they may need to get settled
Help in the garden and help to insure the maximum usage of on-site organic garden as well as locally grown organic foods.
Share Highlander's rich history and current work with visitors and workshop participants through workshop introductory sessions or      leading tours.
Help with childcare services when needed
Participate in staff meetings and educational sessions, as requested
Helpful skills and experience for this position:
Cooking experience with groups a plus, willingness and interest will be considered.
Good communication skills and the ability to speak to groups.
Able to establish rapport with activists and community members in diverse ethnic, racial, social and economic groups.
Commitment to racial, gender, economic, environmental and social justice and civil and human rights.
Belief in Highlander mission and purpose.
Gardening interest helpful.
Start Date:
Highlander hopes to fill this position by April 15, 2014.  Position will remain open until all spots are filled.
To Apply: 
Send resume and 3 references to:
Stephanie McAninch
Operations Coordinator/CFO
Stephanie@Highlandercenter.org
1959 Highlander Way
New Market, TN  37820
Women, people of color, and lesbigaytrans encouraged to apply.